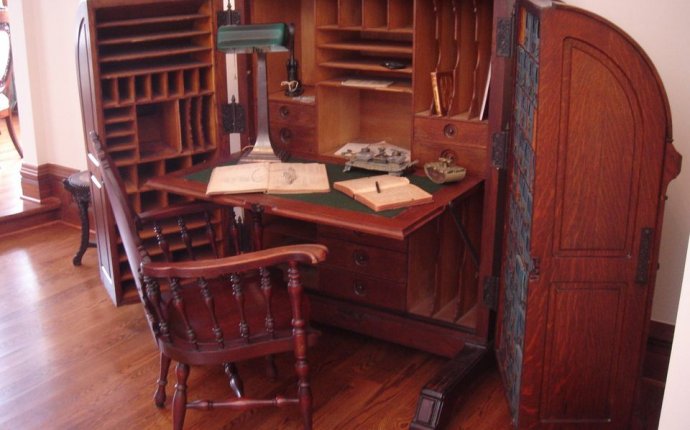 Antique Desks value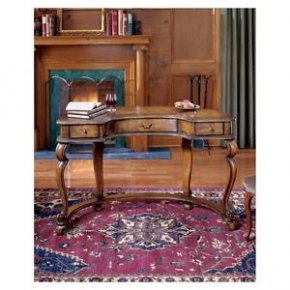 Antique desks were once utilitarian furniture pieces that served multiple functions, such as storing pens, papers, books, and papers for writing. Now, they occupy revered space in homes and businesses as showpieces, more often shown for display than used daily. Antiques are objects more than 100 years old, so these desks and secretaries were made before the advent of telephones and computers during a time when desks occupied a central space in the home for correspondence and ledger-keeping. Due to the range of necessary duties and handcraftsmanship on different continents, desks developed both decoratively and functionally. Collectors can find a wide range of antique desks with drawers, cubbyholes, and inkwells made from a variety of wood with fine brass or iron door pulls. Some desks also feature unique carvings, stained glass, and mirrors. This guide offers information on styles of antique desks and secretaries, historical periods, materials, and some useful ideas on what to avoid when searching.
How to Recognize Antique Desks
An antique is an item that is over 100 years old. The generally accepted principle is that anything less than 100 years old is not a true antique. However, many younger desks are popular as well, but they should really be called vintage. Vintage and antique desks are both valuable. In fact, a vintage desk may be more valuable than an antique desk based on condition or rarity. For collectors, divining the true value of any antique takes some research, but it is well worth it to ensure a proper price is paid for the desk or secretary.
Knowing as much as possible about the desk is advisable whether shopping online or in person. The desk's age, origin, style, quality, and size are important factors that determine value. The maker's mark is a valuable clue to determining the provenance, the origin, and manufacturer. On furniture, the mark may be found on the desk itself or the hardware, including the lock. When buying online, ask for pictures of any distinguishing signatures or marks. When marks are not available, other characteristics provide valuable clues. While most desks are functional, collectors are not looking for function but for value, so knowing what is an original or a restoration affects the piece's purchase price and future value.
Alterations
Most antiques surviving to the modern age will have some signs of wear. This is normal, but an antique that has been altered is no longer considered an antique. Alterations include new hardware, new stain, and new wood. The feet are a valuable clue, as rotted feet are often replaced.
Construction
Antique furniture should not look perfect in construction, as if it just came out of a factory. Early antique furniture was handmade and featured dovetailed tongue and groove joints or pegs and not metal screws. Later, manufacturers started using glues and screws. The screw thread should run the whole length of the shaft. The dovetail joints on the corners of the drawers should look handmade and cedar, oak, and mahogany inside the drawer is best. Mahogany and walnut wood is easy to carve, so many antiques feature delicate and complex carvings over a small or large area. Carvings add to the value of a desk.
Source: www.ebay.com