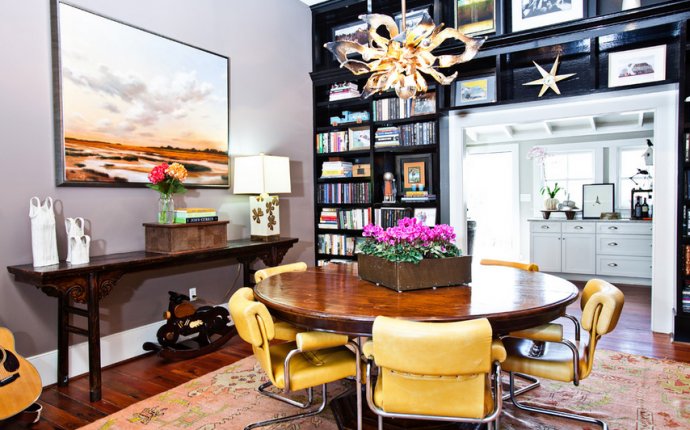 Antique Table with Modern Chairs
THE ESSENTIAL MIX-AND-MATCH VINTAGE DINING CHAIR GUIDE
We've all seen it—that dining table enviably surrounded by a bevy of mismatched vintage dining chairs. It feels breezy; uncomplicated—like flowing cursive on paper—and conjures up major feelings of why-didn't-I-think-of-that? You decide to DIY the look, but once you do, it feels akin to standing at a crossroads in the woods. Questions about vintage dining chairs abound: Can Mid-Century sensibility play nice with Eastlake grandeur? Are secondhand dining chairs like Wishbone Chairs playing it too safe? Is there anything really wrong with a 15-piece Chippendale dining set?
While we will given that last question an emphatic no!, the others are best answered by a few basic design principles. To help, we've gathered some easy, go-to dining table and used dining chair combos. Copy one verbatim, or use them as a launching pad for experimenting with other vintage dining chair styles. In fact, once you've mastered the mix-and-match basics, a fluent look is actually delightfully easy to replicate.
BIG SUR LA TABLE
THE FORMULA: Organic Slab Dining Table + Vintage Eames Chairs
A live-edge dining table is the ultimate style chameleon. One moment it can feel quaintly lodge-like, the next southwestern, and almost simultaneously—organically modern. To honor its metamorphic-like properties, we love the idea of buddying it up with a vintage dining chair that's equally dexterous. Enter: the fiberglass Eames chair.
Eames chairs are the hot sauce of the design world (as in, they go with absolutely everything). Recruit them for the right interiors and they can feel mod, contemporary, or even Scandinavian. But when paired with a raw slab dining table, something unexpectedly 70s bohemian emerges; the combo itself reading like a meandering trip through California cool (with pit stops in both Pacific Palisades and Big Sur). It's relaxed, yet chic; a throwback, but somehow distinctively modern. In case you couldn't tell, we can't get enough.
In terms of the mechanics, a rectangular table or a circular table will work divinely, but for maximum impact, we'd recommend pairing either shape with moody walls (storm-gray would look sensational), and anchoring the ensemble with a graphic, black-and-white kilim. Oversized, monochromatic photography won't hurt either, as it will only hark back to that cinematic, road trippy feel.
FAIRYTALE FARMHOUSE
THE FORMULA: Farmhouse Dining Table + Upholstered French Dining Chairs
In full disclosure, a farmhouse dining table will make fast friends with virtually any vintage dining chair. Metal industrial chairs, ladder back chairs, and Windsor styles all look perfectly curated when parked under a farm table. But for something a bit more unexpected, we love a rustic table surrounded by a mishmash of upholstered French dining chairs. The look is all storybook charm—romantic, but perfectly accessible.
To get the look, collect a myriad of French-inspired styles (fauteuils, bergères, and anything with an oval-shaped back). Seek out winged armchairs specifically for the table ends, and use armless chairs or smaller fauteuils to line the sides. The result will be marvelously Mad Hatter-esque, yet by sticking to pale upholsteries and wood frames that are relatively similar in tone, it won't dissolve into chaos.
If still worried, though, play up the shabby chic aura a bit more with a smattering of small crystal beaded chandeliers. It will keep things feeling proper, as will mismatched vases full of what else? Farm fresh flowers.
SCULPTURAL INTEGRITY
THE FORMULA: Mid-Century Modern Dining Table + Verner Panton Chairs
Breaking up a Mid-Century dining set can be a bit, well, sad—they were made for each other, after all. But once you muster up the courage to do it (and subsequently introduce your newly single table to some slinky Verner Panton S chairs), we promise the payoff is well worth the pain.
To achieve the ultimate look, opt for a rectangular Mid-Century table from a maker like Jens Risom or Hans Wegner (you get the drift: plank top, straight pencil legs). If your table features a lighter hue like maple, you might think about surrounding it with a set of white or chartreuse S-chairs, while a dark table will gel magnificently with black chairs. If opting for the latter, partner your dining set with black and metallic accents and a cowhide rug for a look that is sheer rock n' roll glam.
Source: www.chairish.com