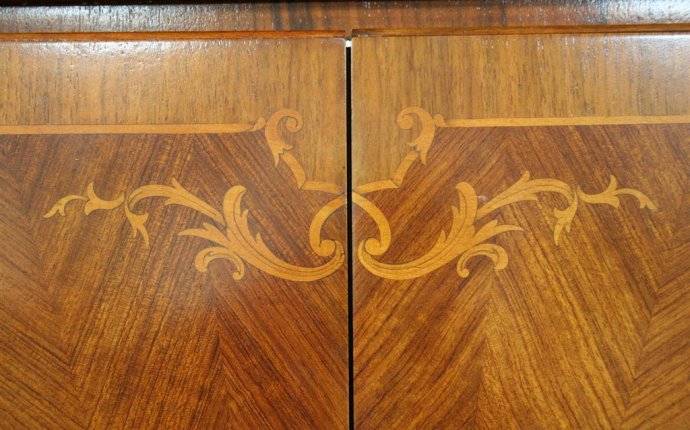 Harp Gallery Furniture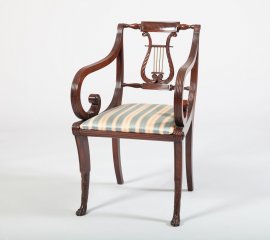 Excerpts from his article in World Furniture, edited by Helena Hayward, 1965.
"It was to Classical Greek and Roman antiquity that designers first turned for inspiration. In Federal furniture, classical motifs and devices were applied to furniture forms, and while these too derived from antiquity, they were not slavish copies.
The second phase of Classical influence began in about 1810-15. It is referred to in America as the Empire style which attempted actually to reproduce in an archaeological sense the furniture of Classical Greece and Rome. New York might claim to be the first city in which this style flourished. Many French cabinet makers migrated to New York after the French Revolution, bringing with them the design vocabulary which Percier and Fontaine had developed to adorn the apartments and palaces of the Emperor Napoleon.
Such typical Greco-Roman motifs as cornucopiae, anthemion and acanthus leaves, eagles, dolphins and swans, lyres and harps, and the monopodium were the basis of this style.
"When the French cabinet-makers arrived in New York they found one particular cabinet-maker, the Scot, Duncan Phyfe (1768-1854) well established. He was working in New York by 1795 and produced superb furniture in the Federal style for wealthy patrons. ….Certainly Phyfe was the most important single name in establishing the so-called Empire style in America.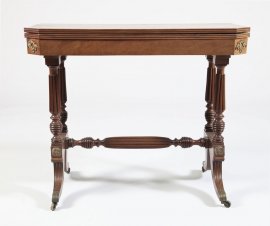 His furniture in this manner was expertly made, generally of mahogany, the carving was of the highest quality, and his interpretation of elements borrowed from the English Regency was so individual, that Phyfe can be credited with having evolved a highly personal style. Since Phyfe did not close his shop until 1847, his latest productions, such as Voltaire chairs, reflect the curved lines of the dawning Rococo revival. Close to Phyfe's work was that of another New York cabinet-maker, Michael Allison (active 1800-45) whose work shows strong Phyfe influence.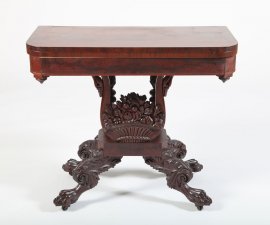 "One of the most important French cabinet-makers was Charles-Honore Lannuier (1799-1819) who migrated to New York in 1803. He was conversant with the French Directoire and Empire styles and produced examples strongly influenced by them. Much of the Lannuier furniture is more elaborate than Phyfe's, and it is often characterized by the use of metal mounts in the French manner. These mounts were imported from France, and no examples or documents have yet come to light to prove that any were made in the United States.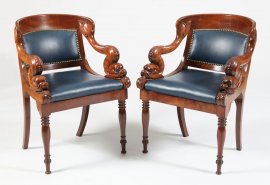 "In the 18th century, there had always been a certain time lag in transmitting furniture styles from Europe to the United States. By the 19th century, communications had so speeded up that in 1830, a third Classical influence was felt in America, coming this time from England, rather than France. In 1828, George Smith published in London his Cabinet-maker and Upholsterers Guide, which was quickly imported to Americans. It contained plates showing furniture in the Greco-Roman style, with a new emphasis on massive forms which earlier Regency models did not possess. Generally the furniture of the period was of mahogany and it was sometimes elaborately stenciled with fruit, floral and other Classical decorations." As perfectly noted in World Furniture, Mr. Butler's own Classical New York Card Table, in which he notes that Lannuier was conversant in French elements, such as the swan neck supports and the heavier carving of the basket of fruit and acanthus carved legs, date from 1830.
Source: www.stairgalleries.com