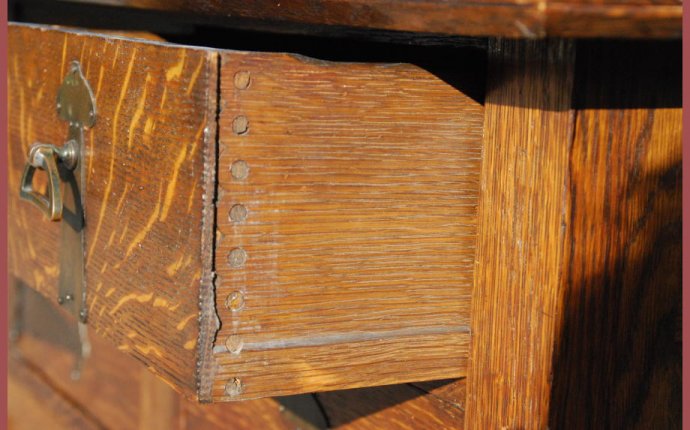 Mission Oak Furniture Antique
As part of the Arts and Crafts movement, furniture made of oak with simple lines and minimal embellishment was extremely popular in America during the first quarter of the 20th century. The style was named "Mission" during its heyday since it was supposedly based on furniture found in the Franciscan missions in California, according to American Funiture: Tables, Chairs, Sofas & Beds by Marvin D. Schwartz.
This type of furniture is also referenced as Mission Oak from time to time, since it was most often crafted of oak wood, and also as "Craftsman" style.
Characteristics of Mission Furniture
The distinctive characteristics of Mission style furniture, popular from about 1900 through 1925, are easy to recognize. Lines will be simple and straight for the most part, with very few curves and no ornate carving. Any carving usually takes the shape of inconspicuous linear grooves. Elements are most often chunky and flat or squared. The overall look is heavy, and some see it as quite masculine.
The squared Marlborough leg was the norm for Mission furniture and decorative feet were rarely used. Any foot present, on a pedestal dining table for instance, is usually block or modified block in style. Chair and settee backs usually have a series of horizontal boards, also known as stiles, across the area where the back would rest.
Many chairs, including rockers, had leather seats.
While Mission pieces in general may have exposed pegs or tenon ends, decorative elements are very much kept to a minimum in the tradition of Arts & Crafts styling. Brasses and hinges used were very basic, but they do add a distinctive touch of flair to desks and sideboards.
The wood used in Mission furniture was oak in most cases. Colors vary from piece to piece and maker to maker, but they are often light to medium in finish and many have darkened with age.
Who Was Making Mission Style Furniture?
Mission furniture is very often associated with Gustav Stickley. He was no doubt the master of this simple style and his work is considered to be some of the most important. But Gustav Stickley, who referred to his work as Craftsman style, had a number of competitors including his own brothers and other furniture makers like Charles Limbert and Elbert Hubbard's Roycroft community.
Gustav Stickley, who was an architect and publisher in addition to a furniture designer, believed that furniture should be made well, comfortable to use, and sensible. Basically, this was the mission in Mission style. He founded what would become Craftsman Workshops in 1898, and by 1900 his production was immersed in Arts and Crafts style. He made his practical furniture in Eastwood, New York through 1916, and promoted his wares in his own magazine, The Craftsman.
In the truest sense, however, Limbert's simple-yet-sturdy furniture (the pieces without an overly Dutch influence) probably came closest to what Mission styling was all about.
His pieces used thinner stiles (the vertical elements as used in chair backs) in comparison to the thicker components Gustav Stickley and others employed crafting this type of furniture.
Five Stickley brothers eventually made Mission style furniture including Gustav. Of them, L & J.G. Stickley's designs followed in Gustav's footsteps the most closely. Leopold and John George would sometimes incorporate more flowing curves in comparison to the craftsmanship of their older brother.
Is All Mission Furniture Valuable?
It is important to keep in mind that most Mission style furniture was mass-produced and not all pieces are of the caliber of Gustav Stickley's work nor or they as desirable among collectors. Many of the pieces made by lesser manufacturers are not particularly well designed, according to Schwartz.
That's not to say that furniture produced by the companies owned by Gustav's brothers and Limbert, for example, aren't valuable. Most pieces bearing the brand of one of these businesses will hold its own in the secondary marketplace.
Source: www.thespruce.com