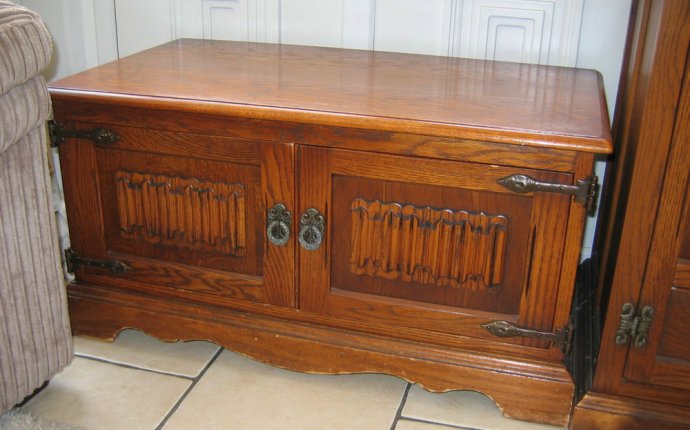 Old Charm Furniture on eBay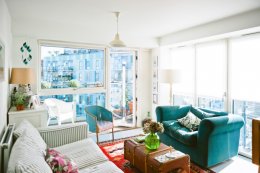 This London flat has been almost two decades in the making for Katy Orme. Since she was a little girl, decorating, designing and redesigning rooms has been a passion that has shaped her. From sponge-painting her childhood bedroom at age 11 (and redecorating each year after) to refinishing the family's living room floors as a teenager, Katy has a love for making spaces come alive and has turned that love into her career. Now as a freelance interior stylist and blogger, she gets to be surrounded by projects, images and spaces that she is inspired by every day.
When Katy was loft-hunting in Bermondsey, a district in south London, she knew that apartments in historic buildings would be out of the question because of the price.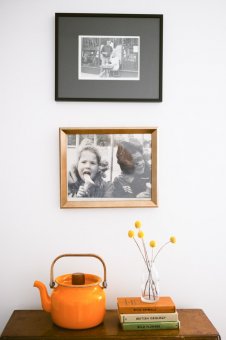 She found a new-build in her budget and immediately saw potential to give it an edge. "I knew this flat was the one because of the floor-to-ceiling windows in the living room and bedroom, so the light floods in and it has brilliant views across London, as I'm up on the sixth floor, " Katy says. "My main decorating goal was to add character to what is essentially a white, soulless box. There are no period or quirky architectural features, so I had to try to add as much style as possible. I didn't want to lose any of the white walls as I love the brightness and flexibility of the space, so I tried to layer up character and color by using furniture, textiles, books, plants and artwork." Katy's eye for balancing color with white space and seamlessly incorporating pieces from various eras has been in practice since she was a girl, and her talent for layering a room is unmistakeable.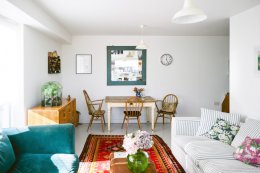 Katy met her now fiancé, Jules Copeland, just a week after moving in and when he moved in a year later, Katy got to transform the space again to suit both of them. "I consciously decided not to buy anything new until I had lived there for a few weeks and had a better understanding of how I was going to use the space, what the light was like, what I needed, " Katy says. "Very gradually over the next year I bought new pieces of furniture and made it all pretty perfect. Then Jules moved in and everything got turned upside down. I had to rearrange the whole flat to fit it all in." Her time arranging, rearranging and DIYing over the years has served her well. Katy's new-build flat is vibrant, beautiful and full of character. —Lauren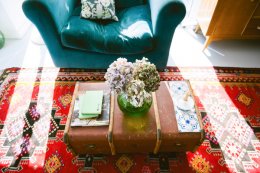 SOURCE LIST
LIVING/DINING ROOM
Striped sofa – Sofa Workshop
Cushions – Abigail Borg
Teal loveseat – Habitat
Kilim rug – Etsy
Trunk coffee table – my mother's school trunk
Green glass vase – belonged to my grandmother
G-Plan sideboard – eBay
Terrarium – found in my parents' garden
yellow lamp – John Lewis
Dining table – French brocante
Ercol chairs – my parents' neighbor gave them to me to take to my university house. I nearly left them there when I came back to London!
Mirror – Antiques shop on Camden passage.
Small antique bureau – present from my parents for my 7th birhday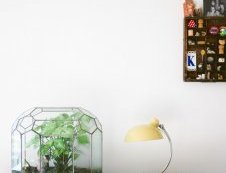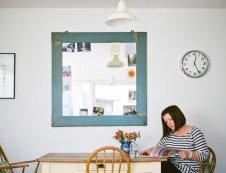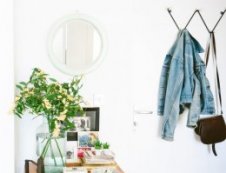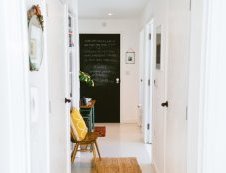 Source: www.designsponge.com