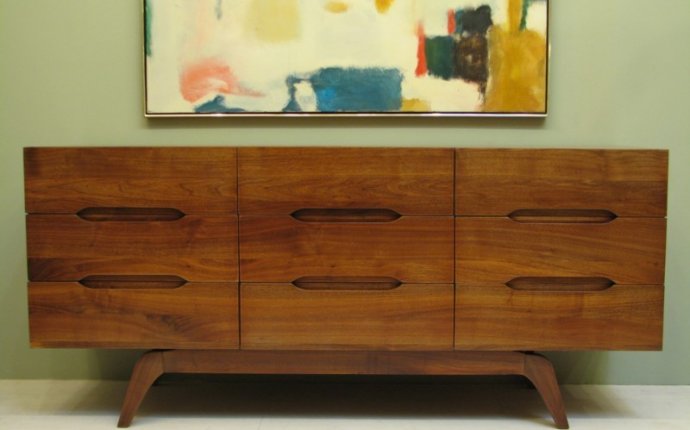 1960s Vintage Furniture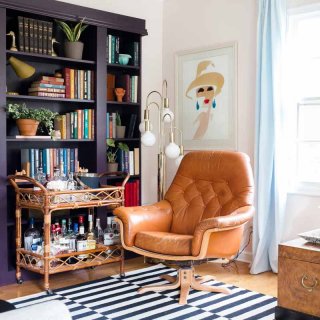 It's so inspiring to see how different people use color in their homes. For many, the rule of thumb is to pick a color scheme for the entire house and play up hues from that same palette in each room. It's definitely a tried and true way to make a home look cohesive and avoid any clashing. For Claire Brody, this rule wasn't appealing when she and her husband Parker started designing their home in Austin, TX. Unexpected (and gorgeous!) color pairings have found their way into each room of the house.
Claire, a blogger and interior stylist, and Parker Brody, a corporate-level merchandiser for a sporting goods line, started dating in high school. When their degrees took them both to Austin, they fell in love with the city. The couple lived outside of the city when they first got married, but they were craving to be downtown. When the pair found this 900-square-foot rental home with tons of natural light for the right price, they jumped on it. Because they don't own the home, Claire hasn't had the ability to renovate it like she would want to, but their landlord has allowed the couple to paint, replace light fixtures and replace window treatments to help her vision come through.
Their 1960s bungalow is the perfect setting for Claire and Parker's love for retro furniture and colorful rooms. "I love for a space to feel collected and unique, " Claire shares. "That was my ultimate goal when decorating this house. That being said, our home is also what I call my blank canvas – I experiment a lot. Through the change, I always aim to create a unique space that is inviting and meaningful to us. I love vintage furniture and accessories and use those items to add personality and quirk to each room." Claire's experiments in this home have definitely been successful — a result that balances sophisticated styling, playful colors and a vintage-meets-modern approach. –Lauren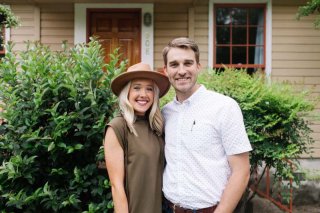 Claire and Parker's living room is both refined and playful at the same time. Their eggplant bookcase, striped rug, colorful artwork and luxe retro furniture all come together beautifully. "This is Parker's 'spot.' Our house changes a lot, but I'm not allowed to touch his 'scotch-drinking chair.' That chair is probably my favorite item in the house. I scored it from my favorite vintage spot in Austin, " Claire says.
Claire and Parker Brody outside of their Austin, Texas home.
It was important that the couple's home received plenty of natural light. Claire works from home full-time and knew it would be a must-have on their house search.
"While the home is small, we are very thankful for the space that we have. We love that it has taught us to be intentional about the stuff we own, " Claire says. "The barrel chairs were the first purchase when we moved to the home. Our living room in our past apartment was smaller than ours now, and didn't have room for accent seating. The chairs are vintage and I had them recovered in a grey tweed."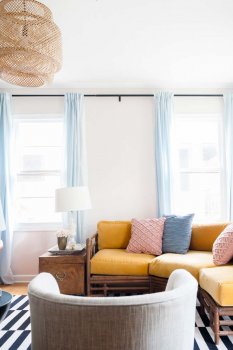 The mix of gold, blue and blush hues makes the sofa inviting and cheery without feeling over-the-top. Claire selected an uncommon and gorgeous color scheme for this space. "We had a sofa from a big box store, but it lacked personality, so I sold it and found this vintage Ficks Reed sofa on Craigslist and had new cushions made for it. Vintage always wins in my book, " Claire shares.
"The kitchen/dining [room] was originally painted a cool grey, but we painted the space in Farrow & Ball 'Breakfast Room Green' on a whim and couldn't be happier with the color. It's the perfect shade of green, " Claire says.
The living room leads to the kitchen and dining area.
"We are very limited on kitchen space, which means we keep a lot of what we use out on the counters, " Claire says.
The Brody family's dining room is rich in color yet cool and collected. The vintage table set, large-scale print, green walls, red accents and new lighting make this room feel incredibly high-end. "Changing lighting is my favorite way to really make the home feel like our own, " Claire shares. "We've saved the original ceiling fans and will switch back when we move out."
Variations of complementary colors are see throughout this Austin home, but Claire's eye for innovation doesn't stop at color. Their master bedroom's headboard is a vintage room divider that she repurposed.
"This month we hit one year of living here and [we] just now feel like it has come together, " Claire admits. "I promised myself I wouldn't rush the process, and while I didn't expect it to take a full year, I'm happy to have a 'finished' house."
"While the lack of space can be frustrating, we love that we are forced to only keep items that are meaningful to us. We simply don't have the space to keep excess stuff. If we bring something new into the house, it's almost certain that something else will have to be donated or sold in order to make room for the new item."
Claire shares, "We are very limited on space and storage. We have our off-season clothes stored under the bed (our closet is the size of a coat closet), our suitcases are in the laundry closet stacked on top of each other and our vacuum is in the water heater closet."
The guest bedroom's color palette was inspired by a beloved piece of fabric. "I had the vintage floral fabric made into a pillow and built the room around that, " Claire says.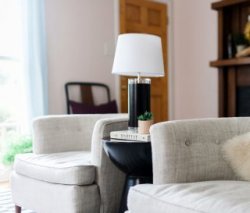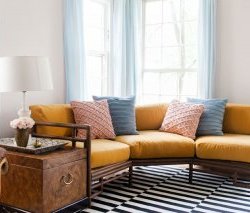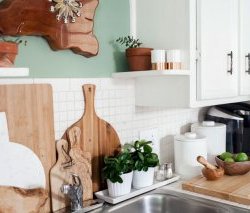 Source: www.designsponge.com