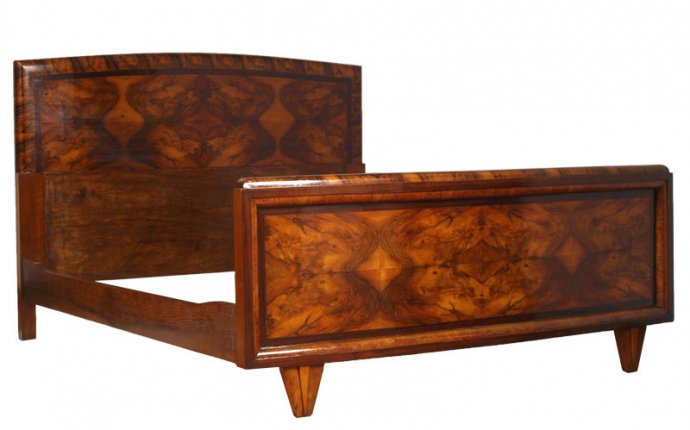 Antique Art Deco Furniture
Think Art Deco style is all about shimmying flappers and Gatsby pool parties? Think again. To pull back the palm leaves on this effusive style—so to speak—we're shining a spotlight on Art Deco style. From the vintage Art Deco furniture hallmarks to the motifs you'll see repeated again and again (the Sphinx—who knew?), this guide will take Art Deco from feeling inaccessible to perfectly procurable. So, let's dive in, shall we?
THE ANATOMY OF ART DECO
From the late 19th Century to the early 20th Century, the Art Noveau style was all the rage in Europe. Flush with natural motifs like sunrays and curly cue vines, Art Noveau was indebted to the symmetry of the natural world. Although the Art Deco movement borrowed from many of Art Noveau's organic motifs, it factored in new and pointedly geometric ones like feathers, palm fronds, and spire-like leaves. These motifs were used in excess on floors, walls, and vintage Art Deco furniture upholstery. Floors especially, reaped the benefits of the trend, leading to marble and wood floors laid in dizzying, kaleidoscopic patterns. Also no exception? Art Deco rugs, which showcased pulsing, rhythmic patterns (just check out any Chinese Deco rug for the world's quickest demo).
Further differentiating Art Deco from Art Noveau was Art Deco's taste for the exotic. Thanks to burgeoning developments in air, water, and steam travel during the 1920s and 30s, globe-trotting became an on-the-regular activity, and souvenirs from far-flung locales were plentiful. To accent these pieces in the home, designers borrowed motifs from places like Egypt and Africa and used them to adorn built-ins and other architectural details. Among the most commonly used motifs of the era were pyramids, Sphinx heads, and slinky Safari cats like panthers and tigers.
Art Deco furniture also riffed off the worldly trend, incorporating exotic materials like dyed animal hides or tessellated bone. When on the hunt for vintage Art Deco furniture, expect to run into the unexpected—be it a furniture piece finished in macassar ebony, shagreen, or lacquered goat skin. Also keep an eye out for vintage Art Deco furniture that's upholstered in animal print textiles—leopard and zebra were favorites of the era (some things never change, right?).
You'll also find that the majority of vintage Art Deco furniture is dark in color. Color palettes of the era embraced this, running in the direction of super-saturated hues like emerald, sapphire, crimson, and of course, the grand dame of drama, black and white.
CURRENTLY LOVING
While we love the theatrical style of vintage Art Deco furniture, it can (admittedly) be a bit polarizing. Buy one piece of Art Deco furniture and it can feel like you've sold your soul to the devil—after all, what really matches with a vintage Art Deco sofa beyond more vintage Deco? But with a little tweaking, we promise that a small dose of Art Deco style can be surprisingly easy to work into your space. To learn more about the low-key Art Deco-inspired trends we're currently loving, read on!
Dress the Walls
The easiest way to get that speakeasy vibe? Wallpaper. Geometric Art Deco patterns are a fine match for the repetitious nature of wallpaper, making market options plentiful. While matte papers will work wonders, there's something quintessentially Deco about a foiled or metallic paper. Look for dark-colored papers with Art Deco crests, medallions, or diamonds stamped in golds or silvers to make your room worthy of star-gazing. Use them in conjunction with vintage Art Deco furniture, or let the paper work as the stand-alone Deco element in a modern room. Because Art Deco wallpapers tend to be busy, we recommend limiting them to a recessed nook or a powder room, but feel free to curate an accent wall with one if you fancy something a bit bolder.
Source: www.chairish.com