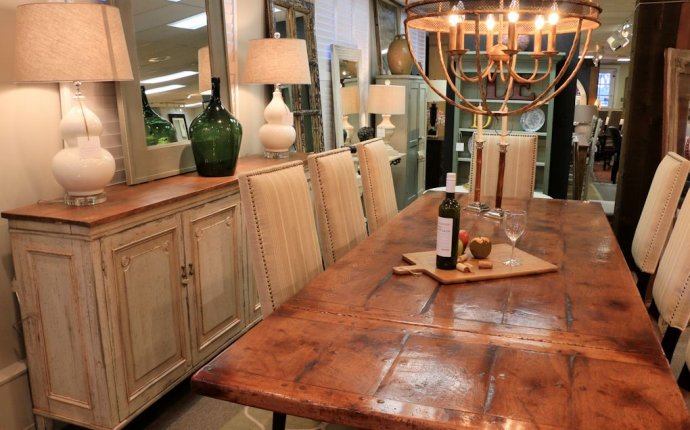 Antique English Furniture
Not since the 1930's has period English furniture enjoyed such popularity. At auctions, astounding prices for 18th- and early 19th-century British styles are registered with increased frequency. In the shops, Queen Anne through Regency designs are booming. Indeed, these days, the brasses rarely tarnish on the finest examples of Georgian breakfronts, bureaus, desks and chests, so swiftly do they come and go in shops on 57th Street, upper Madison Avenue and lower Broadway.
Chippendale furniture, long viewed from Beekman Place to Bel Air and beyond as correct but far from chic, has become the favorite choice of a select group of American decorators, collectors, industrialists and socialites. And as their enthusiasm increases for pierced pediments, slipper feet, Marlborough legs and lacquered cases - especially on examples with aristocratic pedigrees - the market gains momentum at all levels.
The pace may quicken in January when the season moves into high gear and changes commence at Stair & Co., 59 East 57th Street, the largest specialty English furniture source in the world and the oldest in New York. On Jan. 1, Gerald Bland, the 32-year- old head of Sotheby Parke Bernet's English furniture department, will become Stair's president in New York. Remaining as chairman is Alastair Stair, the 70-year-old dean of English antiques dealers in New York and the son of Arthur Stair, co- founder in 1912 with Valentine Andrews of the company that from the outset owned shops in London and New York.
''Business is booming - we've had the best three months in our history, '' said Mr. Stair, who went to work in the New York shop 51 years ago, and has been in charge for more than 30 years. He is not yet resting on his laurels. ''I'm off to London Tuesday to try to find some sparklers for the Winter Antiques Show, '' he commented, well aware of the fact that the fair, which opens Jan. 20 at the Seventh Regiment Armory, Park Avenue at 66th Street, is the nation's most prestigious for second-hand wares and a major showcase for English period furniture.
David H. Murdock, the Los Angeles financier who became Stair's owner in 1980, envisions a different kind of showcase for Stair's wares, an establishment much larger and far grander than all of its three present locations - the five-story, 57th Street premises it now occupies; the Incurable Collector, situated directly across 57th Street, and Stair's smaller shop in London at 120 Mount Street. Mr. Murdock, who controls Flexi-Van, is one of the two largest stockholders in Occidental Petroleum, and owns Cannon Mills, said that to fulfill his expansion plans, he intends to move Stair further north in the East Sixties, hopefully into ''a large, beautiful townhouse'' suitable for showing the finest quality furnishings.
''We plan to continue expanding into other areas with paintings, other decorative arts and tapestries, '' he said. When? ''The timetable is based on how soon we can find a location.'' To achieve his goal, Mr. Murdock will be using some of the profits he made from the sale of his stock in Sotheby's - he was the largest shareholder in the auction house until the takeover battle began a year ago - to its new owner A. Alfred Taubman, the shopping center developer. Coincidentally, Mr. Taubman and his wife, Judith, are also major buyers of pedigree English furniture which they are using to decorate their Fifth Avenue apartment.
Most of the socially secure buyers have a home or pied- a-terre within walking distance of Stair and its uptown competitors, including two dealers who operate by appointment out of townhouses - Neil Sellin of Wellington Antiques, 121 East 70th Street, and Martin Zimet of French & Co., 17 East 65th Street.
The highly respected Vernay & Jussel, 825 Madison Avenue (at 69th Street), a 60-year-old New York antiques concern, began sharing its premises in June with another dealer, Price Glover. The Glovers moved from 57th Street because of a pending prohibitive rent increase.
''We don't want to be the biggest, '' said Christopher Jussel, explaining his role as an art merchant. ''Whether an object costs $300 or $300, 000, we deal with it for what it is. '' He said the informal alliance with the Glovers is ideal ''because our inventories complement each other.''
Further up the street is Florian Papp, 962 Madison Avenue (at 75th Street), now headed by Melinda Florian Papp, grandaughter of the founder. Miss Papp, who is 31 and the youngest of the major English furniture dealers, shares with Mr. Bland an excitement about the increased scholarship on English 18th- and 19th-century cabinetmakers - a development that follows similar work done in recent decades on French and American period furniture. Both see the development as a spur to collecting.
''English furniture is still underpriced, '' Miss Papp said. ''I really think this is a very interesting time to be in this field.'' For one thing, her shop shows less and less conventional furniture (called ''brown furniture'' in the trade) than before she became president three years ago. ''I'm always looking for truly important pieces to get me excited.''
Meanwhile, major decorators, including Albert Hadley, Mark Hampton and Mario Buatta, are doing their best to advance the cause of the British taste in interiors. They have lots of support from such Georgian furniture enthusiasts as Ann Getty, who is the wife of Gordon Getty, a son of the late J. Paul Getty; Eugenie Radizwill, a Greek shipping heiress, and Carroll Petrie, wife of Milton Petrie, the retailer.
And there are others. Imelda Marcos, wife of President Ferdinand E. Marcos of the Philippines, and Wendell Cherry, president of Humana, a Louisville-based hospital management company, were the major contenders - he won - for the Duke of Windsor's Queen Anne lacquered desk that was sold in 1981 by Christie's for $946, 000, the highest price ever paid at auction for English furniture. And Joseph Allen, a Connecticut newsprint executive, is buying English furniture, too. He is said to have purchased one of a pair of George III secretary-cabinets sold singly in two sources in London recently, for about $180, 000. The mate to it sold at Sotheby's in London Nov. 18 for $270, 100.
Decorators and collectors also travel downtown to buy moderate and better quality offerings from Bernard Karr in his sprawling two-story emporium, Hyde Park, 836 Broadway (at 13th Street). Mr. Karr, who has been at this address for 15 years, has also attracted other dealers to the neighborhood, including Philip Colleck, who moved in October to 830 Broadway, after 31 years on 57th Street near Lexington Avenue.
Source: www.nytimes.com