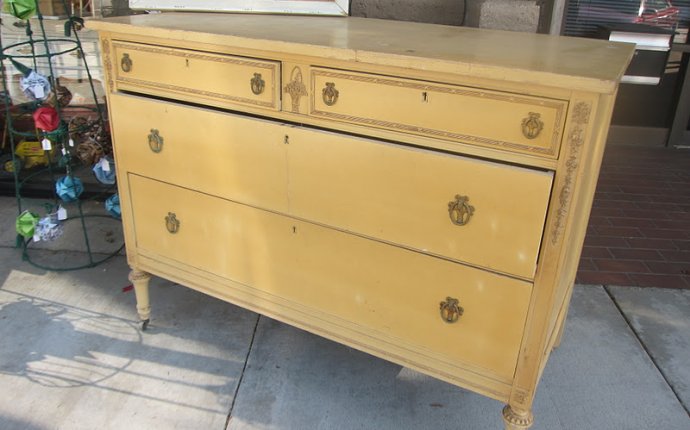 Antique Dresser with Wheels
Hi everyone! I'm here today to share how we turned our sitting room from plain and empty to cozy and welcoming just by adding an antique dresser. Once I found the right size piece for the space (at the right price of course), the rest was easy. Just a little elbow grease, some new hardware and styling, and that's it!
Here's the dresser when I first bought it. The size was perfect. Not too tall or too wide, and I couldn't pass up the $50 price. My favorite part was the keyhole details, especially the one that still had the brass plate around it.
Want to see how I transformed this dresser from old and beat up to charming and antique? Keep reading.
Antique Dresser Transformation
Step 1. I took out all of the drawers and vacuumed every nook and cranny. After sitting upstairs in a little old antique shop for quite some time, there was lots of dust, debris and cobwebs that I definitely wanted to get rid before moving this dresser into my home.
Step 2. I finished cleaning it out with a wet rag and mixture of Murphy's Oil Soap and water to make sure to get the rest of the dirt and grime.
Step 3. I then let it dry outside for a couple hours to help get rid of that slightly musty smell.
*If you have an old piece of furniture with a very strong musty smell, another trick is to fill plastic containers with white vinegar, seal and punch a few holes in the lids. Put one inside of each drawer overnight and that will help absorb strong odors!
Step 4: After the cleaning, I switched out the hardware with these antique-inspired ivory knobs from Hobby Lobby to help it fit the space better. I loved how the little pop of ivory helped tie in the rest of the ivory in the room, and the tiny bit of brass complimented the keyhole plate detail.
Antique Dresser Final Look and Styling
I kept the styling fairly simple and complimentary, adding an ivory pitcher filled with dried lavender, my favorite record player, and a simple brass and glass lamp.
I chose not to paint this dresser for a few reasons. First of all, with so much white and pops of blue in the room already, I liked the contrast of the natural wood. I also realized how well that chestnut wood tone actually complimented a few other details in the space I already had like the bamboo blinds, wicker tray & old wood crates.
Before and After:
Here's a little before and after shot to help show what a difference adding this piece made to the space! I feel like the whole room looks so much more put together, finished and cozy now.
I love how an unexpected piece, like a "new to me" dresser, can add so much style and character to a room. Do you guys have any statement pieces you've added to any rooms in your homes? Do you love more of a painted look or lean towards a natural wood tone? Comment below! I'd love to hear from you! – Layla
Source: www.lifestorage.com