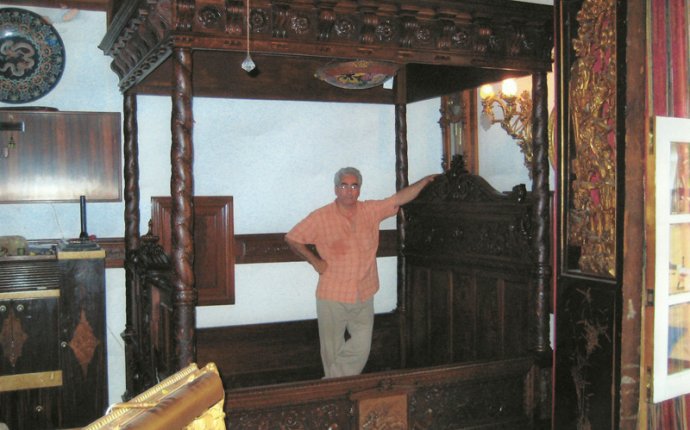 Antique Furniture Repair Los Angeles
6434 Foothill Blvd
Los Angeles, CA 91042
(818) 326-3321
I can not even begin to write how impressed I am with Ed & Jack. Hands down, they are the best. Took my antique vanity from the 1800's and made it look spectacular. Kept the historic integrity, fashioned new pieces identical to the old, refinished, varnished and gave much love to my beloved piece. Jack was so accommodating, helpful and willing to work with me. (He is also super understanding and great with kids who may or may not be under foot...) I want to refer everyone to them!!!
Ed and Jack are expert craftsmen. They reupholstered and refurbished an antique chair and ottoman, creating a superb accent to the living room. The refurbished antique dining room table, reupholstered chairs and china hutch are beautiful. Mahogany bedroom set was restored beyond my expectations. And the antique buffet with a hidden table was repaired, allowing easy movement to open. I am extremely happy and grateful for my finished heirloom furniture. I plan to use them again in the near future. You will not be disappointed with their work.
Ed has the skills and the passion for his work and it shows ! Together with his assistant Jack they make wonderful team . My Paul Frankl Art Deco table was restored with an amazing sense of perfection - he even made a tool to reproduce a missing metal trim ! Not to talk about their kindness on delivery date, a fulfilling experience all together ! THE ONLY WAY TO DO GREAT WORKS IS TO LOVE WHAT YOU DO . And he does, thank you
I had a formerly beautiful pair of antique hand-carved English oak chairs that were missing pieces, full of worm holes, and generally falling apart. Took them to Ed and he was able to magically make them perfect-and no one can tell where the repairs are! I was so impressed that I am taking some treasured pieces from the 1700s to him for repair as well.He understands the old-world methods of construction and finishing, as well as the importance of maintaining the integrity of antique pieces. It's hard to find true craftsmen anymore, but Ed definitely falls into that category.
Such a pleasant experience. Ed was very friendly, helpful and passionate about furniture & his work. When moving cross country the movers broke a large frame to a mirror. The design on the frame was irreplaceable and Ed did a great job putting it all back together in one piece. He even helped me get it into the car and placed right as to not break it on the ride home.
I am very pleased with the expert craftsmanship that Ed displayed in restoring my antique bedroom set. He replaced missing pieces of wooden legs, he matched the paint color and preserved and restored the damaged hand painted flowers. He and his assistant Jack picked up the 5 matching pieces of furniture and when the job was completed, they carefully carried the set up the stairs for me. I am very happy with my beautiful antique furniture. Thank you, Ed!
Very pleased with Ed's repair of a dining room chair. Both arms had split cleanly with the grain, which required drilling and dowelling to accomplish a solid repair. Ed's fine craftmanship and excellent match of staining and finish made the repair virtually invisible to the casual observer - and he completed it in 2 days - one day sooner that he quoted. When I asked about his warranty - he said "100 years" - but I believe he would stand behinf his work that long! FYI - he only taks cash or check, so come prepared, but it is a great value.
Ed is the best in the business. I had two beautiful 19th century pieces that were damaged in a cross-country move: a Victorian love seat that had been dropped upside down and had a broken frame, and an 1820s Secretary with a jammed drawer, and chipped off veneer. Ed came all the way out to my house on the other side of LA to take a look. His price was more than fair and included pick up and delivery by him, he completed the work in a timely fashion, plus he did EXTRA work in securing parts that he deemed unstable, in addition to the repairs that I'd asked for. He really cares about restoring furniture so that his customers can enjoy it for many years to come. In considering repair to my family's heirlooms, I was concerned that a repair job might alter the look or value of the pieces. On the contrary, Ed restored their original look and returned the pieces to their former glory without tampering with the original structure. They look more beautiful than they ever looked in my parents' house! ;) What a nice guy too. I found him here on Yelp. Thank you to everyone who took the time to review this business.
Ed did a great job on repairing and refinishing my 100+ year old Regina music box and stand. It looks like new. He promised that it would be done in two months and lo and behold he met his prediction. He is an old school craftsman who takes pride in his work. I brought him the music box, he gave me a price, we shook hands, and the deal was done. No receipt, no nothing other than a handshake. Two months later I picked it up. By the way, you might be interested in knowing that the music box has been appraised for $10, 000. In other words, you can trust Ed.
Ed repaired drawers for my danish modern dresser and did an excellent job, it looks as if nothing was ever wrong with the piece. I'm very happy with the way they turned out and would highly recommend coming to Ed for any type of furniture repair if you're looking for good quality work.
Ed did a great job repairing my dining room chair. He price matched another repair shop and got it done in one day. Very pleased.
Excellent craftsman with attention to detail. I brought in a tambour from a hundred year old roll top desk that all the slats had come loose. Ed took his time and restored it to it's original condition. If you feel that the price of restoration is high, remeber...you get what you pay for. Highly recommended!!!
Source: www.yelp.com