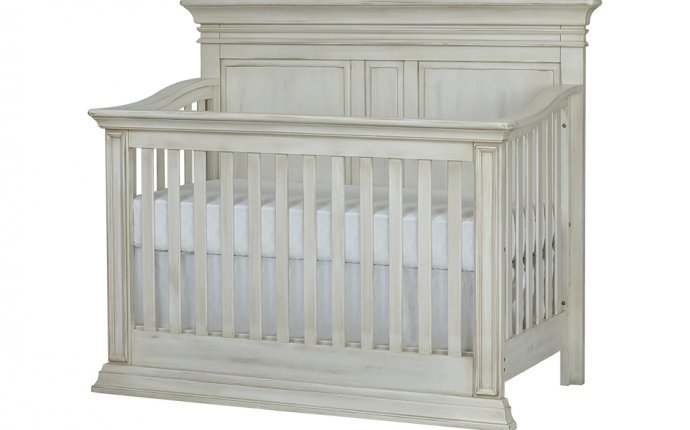 Antique White Baby Furniture Set
Today's parents are looking for more than just function (although that is highly important) when it comes to picking out their child's nursery furnishings and decor. Modern nurseries have become a way for parents to make a statement on parenthood, on who they are as a couple, or just to create a warm and inviting space to spend all those sleepless nights where adults and child alike can feel comfortable. Luckily, the selection of nursery furnishings has never been broader. Whether you need a simple crib and changer combo for a smaller room, or a more elaborate collection of dressers, wardrobes, and designer sleep spaces, there's something to accommodate your needs.
Safety First
With the rise in popularity of vintage and antique furnishings (think distressed chalk paint and masterfully scuffed wood finishes) it may be tempting to keep with a similar decor for your child's nursery. While this isn't an issue in and of itself, you'll want to be careful. Vintage cribs may look attractive, but they may not meet modern safety standards. Some have drops sides, which have been discontinued. Others may have slats that are too far apart, which puts baby at risk of getting his little head caught. Still others might not be a good fit for present day crib mattresses.
Additionally, any older item should be tested for lead paint. Although not as common in furnishings, it's not unheard of.
You can easily get the vintage look with one of many designer sets available, and they will maintain modern safety standards to ensure your little one is safe and secure in his new room.
Deciding What Baby Furniture You Need
The size of your nursery will dictate a good deal about what nursery furniture collections are a good fit for you. While every parent or couple will have their own set of criteria for what is needed, there are a few things that are universal needs for any nursery. You will definitely need:
* Somewhere for baby to sleep
* Storage for baby clothes, diapers, and other essentials
Other items may not be necessity, but they are highly convenient when dealing with the rigors of new parenthood. These can include things like:
* Changing table
* Toy storage
* Wardrobes
* Additional dresser for blankets, rags, etc.
* Coordinating crib bedding
* Wall Decor
* Bookshelves
* Glider and Ottoman
These basic necessities are the bare minimum, and should be the first things you determine. If you're very limited on space, you may not have room for much more in terms of furniture, so decide which pieces are the most important to you. For instance, you definitely need somewhere to keep baby's clothing items, but there may be no room for a separate changing table. That means you should look for a dresser with a changing top to fit both pieces in one, or find a crib with an attached changer for a more compact design. Or, choosing a more compact convertible crib may give you added space for a glider and ottoman set, so you can rock baby in comfort during late night feedings without having to shuffle into the living room (and risk waking a snoozing baby on the way back!).
Many collections have various options, from smaller changer/dresser combinations to more luxurious wardrobes and large chests. Start with the essentials (your crib and clothing storage) and work your way up to additional items as your space and budget allow.
Shop Nursery Sets & Baby Furniture Collections in All Colors
Now comes the fun part. You'll probably be able to find a nursery crib set in virtually any color and style you want. Gone are the days when all cribs were a basic medium wood finish. You'll easily find nursery sets in black, white, dark wood, gray, and even a large selection of colors like blue and yellow.
One way to determine the color you want is to consider your nursery theme. If you're doing nautical, for instance, a blue nursery collection might be just what you need. Or, keep it classic with a dark wood stain or espresso finish. This will allow you to keep the same furniture, even if you decide to switch color schemes or use items for furniture children.
Source: www.simplybabyfurniture.com