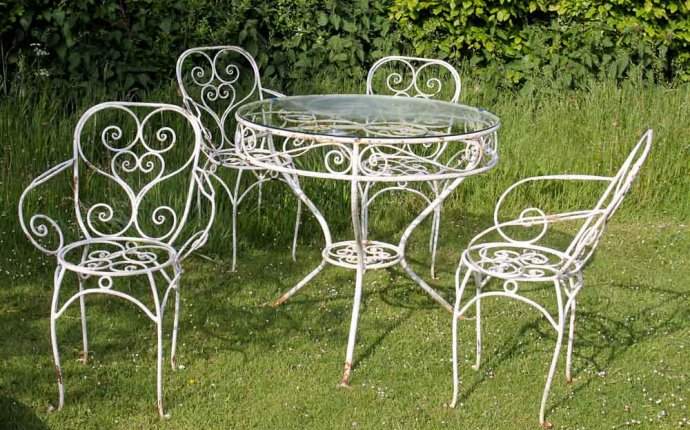 Antique Wrought Iron Garden Furniture
A single cast iron lyre-back design garden chair in the design by Robert Wood (ca 1840) - this example ca 1920. Unlike some early chairs, these are very comfortable. 33" high by22" die and deep. Early green paint finish - a couple of small welds to fix loose joints. Sturdy and in good condition.
A set of four early classic Carre garden armchairs with sunburst backs and seats. Frames are wrought iron and sets/backs spring steel. Sizes vary a little but are in the range of 34" high by 23" wide by 25" deep. There are no breaks in the strapping. Painted gloss white and in good condition.
A gracefully designed hand-wrought wrought iron garden table in the regency style, American ca 1920. Simple lines and graceful curves belie the substantial heft of this piece. It comes with a 5' x 3' beveled edge glass top (not original). Table base is 31" high by 58" wide by 25.5" deep. A larger glass top (6' x 3') is available. Painted dark chocolate;in very nice condition.
An antique American cast iron "White House" bench. A design originating in Scotland, here in the US it has an historic association with the Rose Garden at the executive mansion. This is the smaller version 35" high by 45" wide by 21.5" deep. It has had some repairs over time and there are some rough edges from the original casting, but all details are intact. It has been rust proofed and painted gloss white.
Known as the "renaissance Scroll" bench (and chair) this ornate Victorian set is uniquely American with a complex mix of renaissance and rococo elements and dates to around 1900. The female figure head is sometimes identified anecdotally as " Betsy Ross" and appears on a number of American garden pieces. Bench is 32" high by 45" wide by 18" deep. The chair, not so often found, is 32" high by 25.5" wide by 17" deep. Rust proofed and re-painted/ in good condition.
A very nice Regency style cast iron bench and two side chairs in the Carl Friedrich Schinkel design from 1830. The set is American ca 1910, and features a classic urn/wreath decorative design on the seat backs. The bench is 30" high by 47" wide by 18" deep. The chairs are 30" high by 19" wide and 18" deep. No breaks/repairs - in very nice condition.
Antique French garden table of the variety most often found with the earlier Carre garden side chairs (a little smaller than their later variants), and a set of four Carre side chairs all with sunburst seats, one with a straight back all circa 1910-1920. Table is 28" high by 33" in diameter; chairs are 31" high by 16" wide by 23" deep. Some layers of older paint on 2 chairs and table otherwise good condition/ no breaks.
An antique cast iron garden bench in the curtain style by Peter Timmes, New York ca 1880. Bench retains its original zinc coating and is marked Peter Timmes Son Brooklyn NY. It is 33" wide by 33" high by 18" deep. Is missing a small part of the leaf design on the back stretcher, otherwise in excellent condition.
A matching set of cast iron garden bench and side chairs in the classic fern and blackberry design, American ca 1900. the bench is 34" high by 52" wide by 20" deep. The chairs are 34" high by 22" wide by 20" deep. Re-painted in a shade of dark green. In very nice condition.
A very nice pair of early strap iron garden benches from upstate New York ca 1900. These have a great more grace and charm than your typical bench from the period with wonderfully turned and scrolled arms and legs. They are a generous size for the period being 60" long, 41" high and 31" deep. Weather worn metal texture; newly painted in satin black.
A pair of cast iron garden chairs in the naturalistic twig pattern of oak leaf and branches, nineteenth century American. Each is 33" high by 21" wide and deep. Re-painted in satin black. In very nice condition.
A rare pair of faux bois planters in the form of tree trunks, probably manufactured by Portland Stone Ware in Maine ca 1880 (the company is still in business). These are heavy-duty ceramic pieces designed to withstand the frigid winter climate. Each is in the form of one central trunk with 4 open off-shoots, with acanthus and flowering plant designs alternating at the base between branching sections. Each is 22" high by 24" wide and hollow at the base...
Another antique cast iron bench in the rare Passion Flower pattern from Louisiana, late nineteenth century, marked Hinderer's Iron Wks NO LA. Bench is 34.5" high by 40" wide by 29" deep. Re-painted in dark green it is in very good condition.
Source: www.trocadero.com