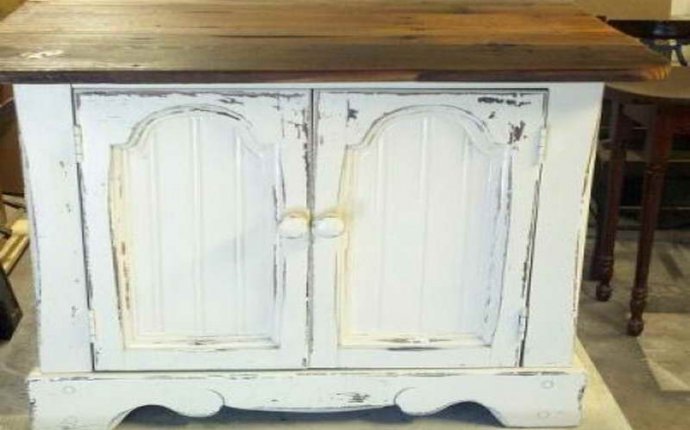 Antiquing Painted Furniture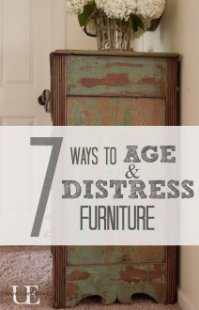 There a million different ways to age a piece a furniture. I have used probably a dozen different techniques and products to achieve my desired finishes, so today I thought I would share with you 7 ways that I age and distress furniture.
Paint Remover
This technique works if the piece has been repainted numerous times over the years. Using a paint stripper and wearing protective gear, generously apply the stripper over the entire piece and follow wait time on the instructions. Using a scraper remove the old paint. Depending on how many layers a piece has and the look you are trying to achieve, will determine if you need to do multiple layers of stripper.
Here is a dresser that I used this technique on:
Dry Brushing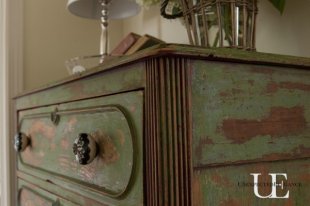 In my opinion this technique is one the easiest and requires the least amount of supplies. To do this technique you just want a very dry brush and lightly go over the surface. Keep some paper towels handy to wipe off excess paint when needed.
For the cabinet in the picture below, I used some leftover latex paint from a bedroom we had painted.
Sanding
This is exactly how it sounds! You can use a sanding block, piece of sandpaper or hand sander, depending on how distressed you want the piece. The key to making it look authentic is to sand places that would have worn naturally over time, like near handles and edges.
The piece in the picture below, I used a finer sandpaper with a hand sander.
Vaseline
For this technique you add petroleum jelly over areas that would generally be worn naturally over time BEFORE you paint the final paint color. You will need to have a base coat in either a contrasting color or stain. Once you have paint over the Vaseline, let it dry completely then lightly sand over the areas.
Here is a good post that demonstrates this technique:
Antiquing Wax/Glaze
To add age to your paint, you can use a glaze or antiquing wax. This technique is all about working quickly. You want the product to go on easily and be able to remove most of it, with only a hint of the color left. This will give you the look of the paint turning color over time and naturally wearing.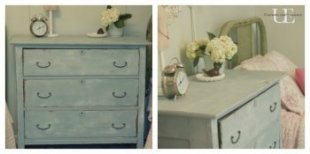 Here's a good example and quick tutorial for using Annie Sloan paint with the dark wax:
Annie Sloan Chalk Paint
This is more of a product than a technique. I've learned that you don't really want to be a perfectionist when using this paint. The more you "slop" it on the the better it looks…in my opinion.
This is a bookcase that I used two different colors of Chalk Paint and lightly sanded.
Milk Paint
This paint comes in powder form and you add water. This paint can also give you very dramatic results and different techniques you use. I have seen people get really creative with how they take the paint off (tape, scraper…)
Source: www.unexpectedelegance.com