Chettinad Antique Furniture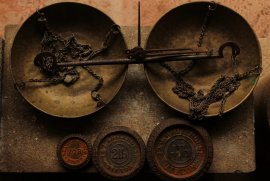 The town of Karaikudi is located in the hinterland of Tamil Nadu and is a three-hour ride from either Madurai or Trichy where the nearest airports are located. This town along with its surrounding dwellings makes up the Chettinad region. The Chettiars are a trading community that was initially located along the eastern port city of Poompuhar where they traded in salt with the Chola kings till the 13nth century. They then migrated inland but the reason isn't clear; some have postulated that the relocation was due to persecution while others claim it was due to a tsunami that destroyed the port city.
Whatever the reason, the money-minded Chettiars were blooming financially even in their inland settlements and by the eighteenth century, were trading across the seas in pearls, textiles, cotton, pulses and arrack. They became so rich and came to be known as the Jews of southern India as they finally emerged as money lenders and financiers for most of the trade in the region. With their riches, they constructed palatial mansions using imported materials shipped from everywhere…solid teak wood from Burma, glass from Bohemia, enamelware from Czechoslovakia, marble from Italy and beautiful tiles from Minton!
But sadly that era is over and these palatial mansions are now going to ruins. Many of their amazing contents can now be found in the flourishing antique markets of Karaikudi. This quaint town is famous as a major source of antiques in southern India and you can find classic articles like some of Raja Ravi Varma's works, Tanjore paintings, and curios from different parts of the world as well as sepia-colored photographs of earlier Chettiars during their days of grandeur.
The beautiful craftsmanship of wood sculptures and their intricately carved doors can be purchased and used in your own home for that grand 'Chettinad look'. Huge teak wooden pillars, antique furniture as well as antique doors can be dug out of the thousands of items stored in these fascinating antique shops. It's a little bit of paradise for the antique seeker to walk down the lanes of over 20 plus antique shops selling the leftovers of the grand Chettiar way of life! You will be mesmerized with old but perfect enamelware, huge radios, wooden spice boxes, porcelain plates, magnificent lamps with painted glass works, beautifully encased mirrors, fascinating brass locks in perfect working condition…..the list can go on as almost everything from the crumbling grand mansions have been put up for sale.
A visit to Chettinad is really worth it for the adventure-minded ones. You can enjoy the ambience of heritage mansion hotels like Chidambara Vilas as you roam the streets of Karaikudi for exciting antiques!
Source: www.chidambaravilas.com