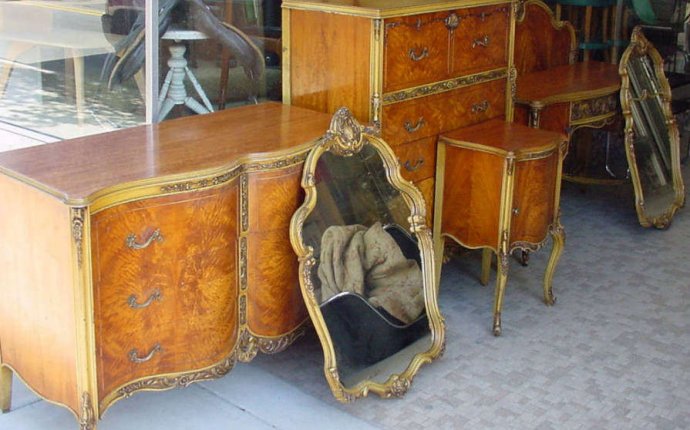 Union Furniture Company antiques
This Wonderful Mahogany Secretary was manufactured by a renowned furniture company of Jamestown, New York.
It has a metal label inside the left drawer of the secretary to the effect: Union National Furniture Co, Jamestown, New York. It was manufactured approximately 1939.
The Union National Furniture Company always had extremely high standards for detail and quality of furniture production for its clients and was never cheap from day one of the factory's creation.
Executed in exquisite Sheraton style, this magnificent secretary has great detail:
The finial atop the secretary is carved solid Mahogany.
The finial has an oval medallion with an urn center crowned by a bow with ascending acanthus leaf motif on each side.
The top section of the secretary has four doors of which the two side doors have concave glass.
Each side of the two center doors has a reeded column.
The bottom section consists of two concave small side drawers and two concave side doors.
Underneath the pull-out desk or writing section (pigeon hole) there are three drawers of equal size.
Each drawer and the two bottom side doors have oval brass finish pulls.
In the top section there are two adjustable shelves.
In the bottom section there is one adjustable shelf on each side.
SIDE NOTE: May also be used as a dining-room breakfront.
FURNITURE COMPANY: UNION NATIONAL FURNITURE COMPANY
HISTORY OF UNION NATIONAL FURNITURE COMPANY: The Union National Company was formed in 1939 from the National Furniture Company. The Nord family has run the company since 1891. The Union National company produced high end quality hardwood furniture for many celebrities including Wayne Newton, Lucille Ball, Jerry Lewis and William Holden. The company closed in May of 1994, still under the Nord's control.
Union National did indeed make fine furniture in Jamestown, NY. They were acquired by Wall St. financier, Webb Turner in an attempt to create a furniture dynasty in the late seventies or early eighties. He acquired several furniture manufacturers, including Union National, State of Newburg, Deville, Burlington Furniture Industries and a few others. He learned, as did several others over the years, that the standard corporate model rarely works in the furniture industry.
CIRCA: 1939
MEASUREMENTS:
Length: 50" (left to right)
Width: 15" (front to back)
Height: 71.50" (without Medallion)
Height: 79" (with Medallion)
Total Height: 79" (apex of Urn Finial to floor)
CONDITION: Overall condition is very very good. There is minimal surface wear to the legs near the floor and very little overall surface wear to the face which is considered patina by many collectors and dealers of antique furniture.
Source: www.passionforthepastantiques.com