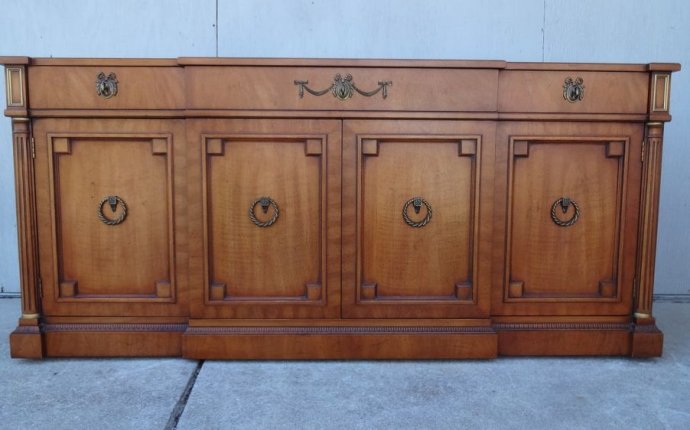 Vintage Henredon Furniture
Founded in 1945, Henredon is one of the more recently minted of the top-tier North Carolina furniture makers. Among collectors, Henredon is admired both for its sleek, sexy furniture of the 1970s and for its partnerships with noted designers, a program that started in the 1950s with decorating icon Dorothy Draper and architect Frank Lloyd Wright.
From the start, Henredon — the brand name is a portmanteau term, derived from the first names or initials of three of the company's founders — has been best known for case pieces such as cabinets, bureaus, armoires and credenzas. Though not on the cutting edge stylistically, the company's production has always kept pace with contemporary tastes. In 1953, Henredon began a collaboration with Dorothy Draper, famed for bravura interior design commissions such as the Fairmont Hotel in San Francisco and the Greenbrier resort in West Virginia. Her taste for bold, modernized historical style is reflected in the incised baroque medallions of her España line and the geometric motif of her Viennese furnishings group.
In 1955, Henredon launched the Taliesin Ensemble by Wright, named after the architect's houses in Wisconsin and Arizona. The pieces are recognizable by their angular shapes a dentil motif on their edges. In those years, Henredon had a cross-licensing agreement with the Heritage furniture company, and Draper and Wright furniture is usually labeled Heritage-Henredon.
In later decades, Henredon produced collections for such designers as Ralph Lauren and Laura Ashley. The company took a stylish turn in the 1970s, fabricating new and unusual forms like mirrored room dividers console tables with rounded corners and burl-wood veneers. Such pieces are priced in the $3, 000 to $4, 000 range, as are chests of drawers by Draper. Wright furniture tends toward the higher end, priced around $7, 000. As you will see from these pages, Henredon was an aesthetically diverse maker, but its furniture commands attention and makes a statement in any eclectic decor.
Source: www.1stdibs.com