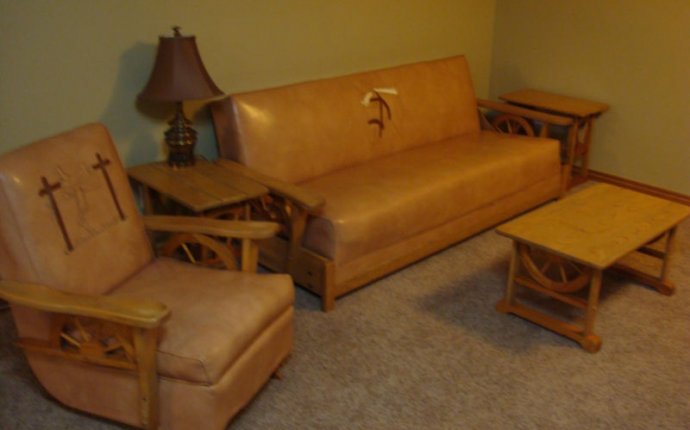 Vintage Wagon Wheel Furniture
In the 1950's, every little boy's dream was to be a cowboy, Davy Crockett and westerns were big on the small and big screen, and vintage wagon wheel furniture came into fashion. Using wagon wheels to create a western, rustic, or lodge look in furniture went hand in hand with a country enjoying the great outdoors, camping, and a land-buying boom in summer homes in the mountains and by lakes across the country.
Vintage Wagon Wheel Furniture from Across the West
Wagon wheels literally carried wagonloads of people from the East as they pulled up stakes and put down roots populating the mid and far west United States. First made of steamed hardwoods, and then reinforced with thin bands of steel, and later with rubber, wagon wheels have never completely gone out of existence. Wagons of different shapes and sizes exist and used still in professional racing competitions, as well as on modern farms, going places where motorized vehicles cannot go.
Much of the vintage furniture from the 1950's is inherently more valuable because many pieces used wagon wheels from the late 1800's. In that case, it is truly part antique, not vintage or vintage inspired.
The Difference Between Antique, Vintage and Vintage Inspired Wagon Wheel Furniture
Antique Wagon Wheel Furniture - Furniture that has been made using antique wagon wheel furniture will traditionally be wood. The wood on the wagon wheel parts of the furniture should show pitting, digs, and scratches. This type of furniture is more fragile and wood will be drier to the touch, and in need of oiling and buffing.
Vintage Wagon Wheel Furniture - Wagon wheel furniture from the 1950's will have some steel band reinforcement in the wheel. The designs, while rustic, have more attention to detail and are less chunky looking than antique wagon wheel furniture. The wood will appear suppler and less battered in appearance.
Vintage-Inspired Wagon Wheel Furniture - It is made today by current manufacturers who clearly label and mark their furniture as new furniture.
What Kind of Pieces of Furniture Used Wagon Wheels
Wagon wheels are used for the following types of furniture:
Benches and sofas (using wagon wheels cut in half for the arms)
Tables
Lighting fixtures (wagon wheel chandeliers are still popular today)
Garden trellis and decorative objects
Fencing
Where to Look for Wagon Wheel Furniture
If you are on the hunt for some vintage wagon wheel furniture, you might try the following:
Cowboy Classics - This site carries vintage western furniture as well as new handcrafted western and lodge furniture. A recent visit to their site unearthed a pretty, 1950's table. The table is hard maple and has a leaf and stands on two half wheels. It has a decorative yellow and brown vinyl top. A western cowboy ottoman-footstool done in green vinyl with wagon wheel sides recently sold, but a tan wagon wheel rocker with a longhorn imprint on the back of the chair, looks comfortable and would fit into a living room or den area with ease.
Wild West Living store has a wagon wheel coffee table with inlaid glass, as well as a vintage wagon wheelbarrow table. Be sure and ask the store as to the age of the piece you are buying. Vintage parts may have been added to modern components.
Timberline Furniture offers vintage inspired wagon wheel furniture. The prices range from $1, 500 and go up. If you cannot find an authentic vintage piece, Timberline makes an excellent substitute with a variety of designs and options.
The covered wagons of the old West migration live on in furniture bearing both vintage and newly inspired creations. If you would like to have a part of American history in your home, you can do no better than to own a piece of furniture constructed from an authentic prairie schooner.
Source: antiques.lovetoknow.com