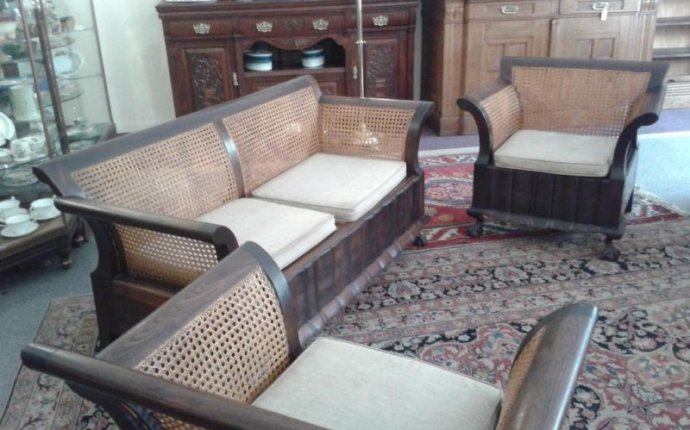 1920 Antique Furniture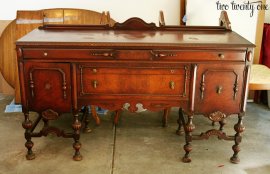 If you follow me on Instagram you may remember back in August when I posted that my parents had arrived with my late grandparents' antique buffet. Well, the buffet has been hanging out in our garage since. My initial plan was to paint it. I even bought a quart of chalk paint, but I couldn't pull the trigger.
Well, I got the advice I needed last week at SNAP! when I sat in on a brown bag session with Bruce from Minwax. During his presentation he said to never paint your grandparents' antique furniture. Never. Ever. Seriously, it's like he was speaking directly to me. After the session I caught up with Bruce and showed him a photo of the buffet on my phone. He told me how to restore the buffet, and he even gave me a little historical knowledge– telling me the buffet is from the 1920s. It pays to keep your iPhone riddled with photos.
The antique buffet means a lot to me because it belonged to my maternal grandparents– Grandma June and Grandpa Bob, but he was just Grandpa to me.
(Many of you said in the inaugural Two Twenty One reader survey a couple weeks ago (results are coming soon– making graphs and charts is hard work), that you wanted to know more personal stuff about me so here we go.)
I called my mom last night, rousing her from her slumber at 10:45 PM, to ask what year my grandparents were married so I could tell you how many years of wedded bliss they shared. My mom couldn't remember so she got out of bed and started looking through boxes, asking if I really needed to know the wedding date right this second. I told her I was working on this post, so yeah I kind of needed to know now. Then I told her she was a bad daughter for not remembering her parents' wedding date. After searching for fifteen minutes with no luck, my mom said, "I can swing by the cemetery tomorrow morning and find out, but I'm not going right now". (Their wedding date is engraved on their tombstone.) Fair enough. Edit: Grandma June and Grandpa had 57 years of wedded bliss.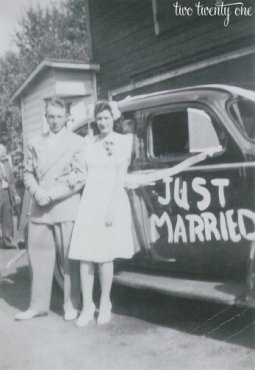 I grew up across the street from my grandparents. It was nice having them less than 50 feet away. My grandma babysat my brother and me when we were little. I still have vivid memories of watching Sesame Street and Mr. Roger's Neighborhood while sitting on their living room floor and reading Highlights magazines with my grandma on their scratchy Davenport, as they called it.
Grandma June always had cookies, most often those store bought iced oatmeal cookies, on her dining room table for us to dig into. The buffet sat next to their dining room table, as do most buffets. My most memorable buffet memory as a kid is of me struggling to open the top drawer of the buffet to get my grandma's scissors and the smell of the drawer when I'd finally get it open. I can still smell the scent of the drawer when I think about that memory. Anyone else ever experience that, or am I just weird?
Here's my grandma holding my brother and me, and my older cousin in the pool. Now I know where my hatred of people touching my head stems from.
My grandpa owned his own trucking company for years, but in his later years he stuck to farming and hauling livestock locally. Grandma June was a stay-at-home wife/mom/grandma and took care of the books for my Grandpa's trucking company. She also took care of the all house-related things, like running the microwave. I kid you not, my grandpa didn't know how to work the microwave, do the laundry, or cook. A true 1940s/50s couple.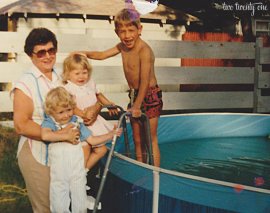 Grandpa always joked that he'd work until the day he died because he didn't have a hobby– work was his hobby. Shoot, my poor grandma could never enjoy a decent vacation because Grandpa was such a workaholic. They'd take off in their motor home for a week long vacation in Florida to visit friends only to return after 3 days because my grandpa couldn't sit still and not work.
Here they are on vacation in Florida in '83. My grandpa is probably plotting their early departure back to Indiana. Poor Grandma June doesn't even see it coming.
That's my grandma and me. She enjoyed my humor from an early age. Can't you tell?
My grandparents were pretty awesome. Except when my brother and I'd act up and my grandpa would go all old school on us and threaten to get out the yardstick or his belt. But looking back now it's kind of funny. We never got a yardstick or belt beatin'. Well, I never did.
Like everyone says about special people they lose, I wish I had more time with them. My grandma went into cardiac arrest the day before my 17th birthday and passed away two days later, and grandpa passed away two and half years later, on my mom and aunt's birthday (they're identical twins). Crazy timing, eh? I swear all my grandparents were a little dark and twisty when it came to the timing of their deaths. You may recall that my paternal grandma passed away the morning of our wedding. Oh, and Grandpa worked until the day he died… at the age of 83.
When it was time for my mom to clean out my grandparents' house she asked what furniture I'd like to have. I immediately called dibs on the buffet. When I claimed it I remember my mom saying something like "that old clunky thing?" Yes, mom, that old clunky thing. Then I proceeded to store that old clunky thing in my parents' pool house garage for oh, 6 years. Note: My parents were here visiting this weekend, and my mom had only nice things to say about the buffet.
So this weekend I got busy restoring the 90 year old beauty to the best of my ability. Here she is re-coated, sans hardware, in our dining room.
Do you have any family heirlooms in your home?
Do the people in your family recall important dates by swinging by the cemetery?
Did you have any close calls with your grandpa's belt?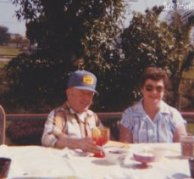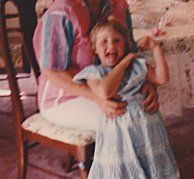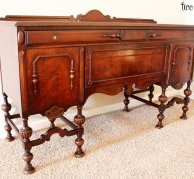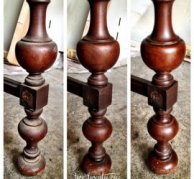 Source: www.twotwentyone.net