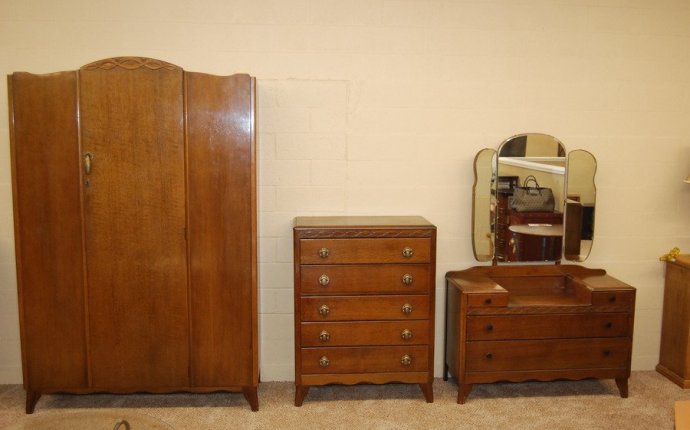 Antique Lebus Furniture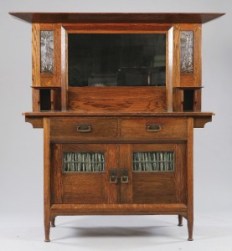 By Nancy Hiller
From Issue 66
In an out-of-the-way corner of Tottenham in northern London, a narrow footpath leads across a meadow from the banks of the River Lea to a row of brick industrial buildings that clearly have seen better days. The buildings' current occupants are the sort of businesses most of us take for granted: a manufacturer of decorative cake bases, a moving company, a recording studio.
Separated from this hidden pocket of enterprise by a row of burly sycamores is a garden, normally secure behind a padlocked gate but open this morning to nearby residents—recent immigrants who work the soil, keeping their homeland traditions alive while subsidizing their hopes for a better future. The garden is a riot of bright colors and soft edges. Blue barrels gather rain. Narrow limbs dropped by the sycamores have been roped into arbors for bean and tomato vines. Wild currants and blackberries grow in thickets wherever their exuberance is tolerated. An elderly man and his daughter emerge through the open gate, their bags bulging with peppers and cucumbers.
Up the road toward Ferry Lane, a massive crater is being excavated by a pair of gigantic laboring cranes. Hoardings (Brit-speak for temporary billboards) announce the construction of a multistory apartment building with waterfront views. One of the banners reads "In harmony with nature." Another declares the coming development "A place for reflection." Gulls keen overhead. Meanwhile, an unbroken stream of traffic flows across the humpback bridge that borders the construction site. The bridge's hollow arc amplifies the screech of braking buses and the rumble of heavy trucks.
Rediscovering Harris Lebus
As I was to learn, a hundred years before, this stretch of riparian real estate had been home to a very different sort of activity.
During the summer of 2007 I had the opportunity to take on some speculative work. Russ Herndon, a Bloomington, Ind., designer and neighbor, had a distinctive English Arts and Crafts sideboard. His dealer, Chuck Johnson, of Southern Indiana Arts and Crafts Antiques, believed the sideboard might have been made for Liberty & Co., the firm whose shops in Regent Street, London, made Arts and Crafts–influenced furnishings and other wares available to middle-class buyers before and after the turn of the 20th century.
A collector of English and American Arts and Crafts, Russ was no newcomer to the genre; he counted Stickley, Roycroft and Limbert originals among his holdings. But this sideboard, about whose origins he could not be certain, was one of his favorites, in part because of its refinement relative to the severity of many American Arts and Crafts classics.
The cabinet's style is distinctly English, with exaggerated bevels, broad overhangs, graceful arches and bold interplay between the vertical and horizontal elements. Still, there is something homely about it. The oak is plainsawn, not quartered. The grain of the drawer faces isn't matched. The drawers were dovetailed by machine. Hardly the sort of quality we associate with the finest Arts and Crafts. Yet it is a beautiful, functional object. I asked Russ if he would let me craft a reproduction, and he agreed. We called it the Liberty sideboard.
Several months later Russ told me he had contacted the U.K.–based Arts and Crafts dealer Mark Golding, who directed him to a page from an auction company's Web site. There on the screen was a cabinet identical to Russ's. "An Arts and Crafts oak mirror-back sideboard…registered in 1903, " read the description. Harris Lebus had been the maker.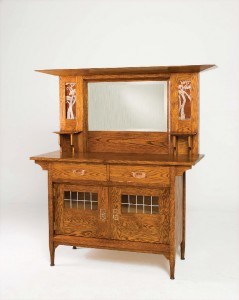 Harris Lebus? Neither of us had ever heard the name.
A search of the Web turned up a brochure that had been produced in conjunction with an exhibition, "Investigating the Past—The Harris Lebus Factory." (An Acrobat PDF of the brochure is available online; Google "lebus exhibition.") The company had lasted a very long time—from its origins in the 1840s until the mid–20th century. It had been substantial, employing some 6, 000 workers at its peak during the 1940s. It had been founded by a Jewish tradesman and had been well known during the early 1900s as an employer of Jewish immigrants. It seemed clear that interest in the company had been revived by the local government, which was working with a group of property developers on the riverfront project.
This seemed a story worth pursuing. The Bruce Castle Museum had hosted the exhibition. I contacted Deborah Hedgecock, the curator, and booked a trip.
Early Years
Harris Lebus had its origins in the 1840s when Louis Lebus, a German-Jewish cabinetmaker, emigrated to England from Breslau. Louis enjoyed good fortune in England. He set up shop as a cabinetmaker in the port city of Hull, where his business flourished. He then moved to London, where he outgrew one set of premises after another, and in 1875 he moved with his family to the relatively prosperous Georgian neighborhood of Wellclose Square. After he died in 1879, his eldest son, Harris, took over the firm. Six years later, he relocated the shop to Tabernacle Street in Finsbury, in London's East End.
London's furniture industry had changed markedly in the mid-19th century. As a growing middle class aspired to live in style, the demand for affordable furniture prompted the development of furniture manufacturing in the East End. Unlike West End shops, which had a long tradition of refined craftsmanship grounded in the apprenticeship system, the East End offered opportunities for entrepreneurs of large ambition and little means, many of whom kept costs low by working to order and dividing furniture construction into a series of simple processes that could be carried out by workers of limited skill.
By the mid-1880s, Harris Lebus was no small-time tradesman but the head of an established firm with dedicated manufacturing premises outside his family's home. Although the company had not originated in the hardscrabble world of East End furniture making, it prospered mightily in that milieu. By the 1890s Lebus had become England's largest furniture maker, with around a thousand employees.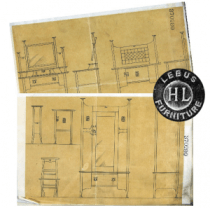 Source: www.americanbungalow.com