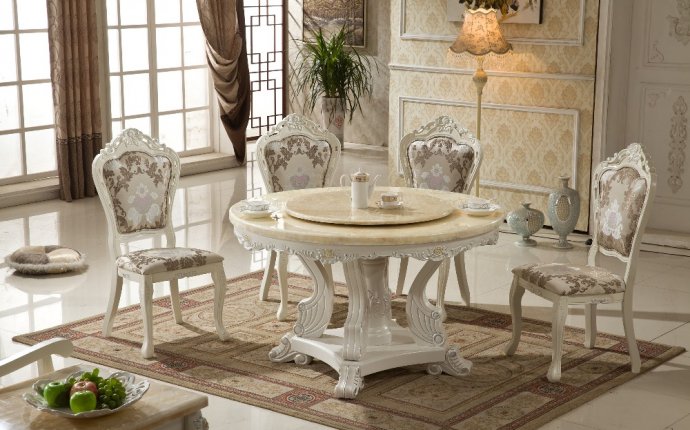 Antique Marble Top Furniture
You can find antique marble top tables from many eras. Marble has been used for centuries to decorate and luxuriously furnish homes. Often marble pieces broken from ancient ruins were used to make these tables.
Examples of Antique Marble Top Tables
One of the oldest known Italian marble tables is the Farnese table which can be seen in the Metropolitan Museum. This table was designed by architect Giacoma Barozzi da Vignola (1507-1573). It was created with marble as well as alabaster and semi-precious stones.
Thomas Jefferson was reported to have four marble topped tables that he brought from Paris in the 1700s. You can view one of them at The Jefferson Encyclopedia. While many people think of antique marble tables as being specifically Victorian. Obviously, this is not the case. The marble topped, trestle table shown at the Jefferson site is a beautiful example of the simple, colonial styling of the 1700s.
Rococo Revival style is one of the earliest Victorian styles. It had heavily carved, rounded decorations and lines. Many of the Rococo Revival style tables have marble tops. This style came into vogue in the 1840s. An excellent example of a marble topped Rococo Revival table can be seen at PricesForAntiques.
Buying Antique Marble Tables
Antique marble tables can be found in almost any local antique shop. There were numerous tables over the years and they continue to be quite plentiful. The price you can expect to pay will depend on many things including:
Size
Age
Uniqueness
Desirability
Provenance
Condition
Location
What to Look For
You should carefully check the antique table in which you are interested. Don't just look at the top, check the attachment of the top to the base and the overall condition of the item. The base should be sturdy.Look for stains, chips and cracks in the marble because these will have an effect on the value. Of course, an antique item can be expected to have some wear but be sure it is not extensive or hasn't caused a weakness or flaw to the piece. Check with the dealer about delivery. Marble can be difficult to transport and it is best to have the dealer deliver it if possible. That way if the marble cracks or breaks you will not be out the cost of the item.
Cleaning Your Marble Topped Table
Marble is quite durable but there are some things that can permanently mar the surface.
Always be sure to clean spills up immediately. Acids from foods and other substances can permanently etch the surface.
Placing a glass directly on the surface of the table can leave permanent rings.
Marble stains easily, another reason to keep spills wiped up.
Wash the table top regularly with warm water. Be sure to dry it well with a soft cloth.
About two times a year wash the top with a gently dish soap and warm water. Rinse it carefully and wipe dry.
If your antique marble top has stains then you will need to treat the stain according to the type of stain it is. Just use a soft, white cloth and moisten it with the suggested substance. Leave it on the stain for at least an hour or up to two days. You will need to keep the cloth moist.
Coffee or tea stains can be cleaned with a 20 percent hydrogen peroxide solution.
To remove oil just spread with cornstarch to soak up the oil. Let it stand for 24 hours, reapplying the cornstarch if you need to soak up more oil. Wipe the cornstarch off and wash with dish soap and water, or a little ammonia. Rinse and dry.
Source: antiques.lovetoknow.com