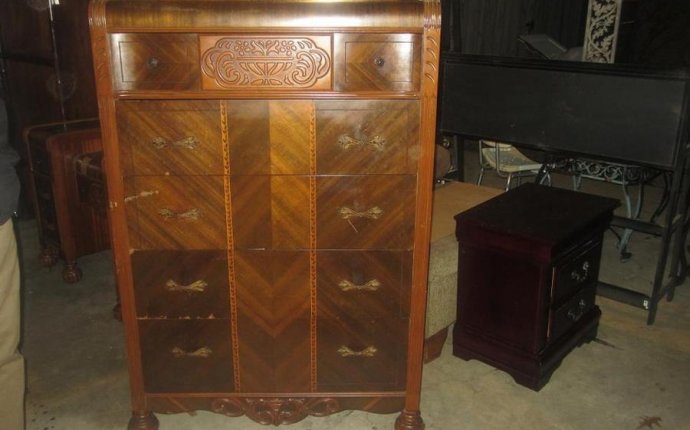 Cheap Antique Dressers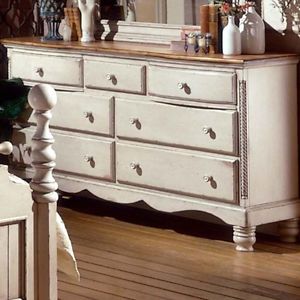 A dresser is piece of furniture where personal items, such as clothing or toiletries, are often stored. A vanity, on the other hand, is a type of dresser with a mirror and a matching chair that allows people to apply their cosmetics or dress themselves in front of the mirror. Today, antique dressers and vanities are popular not only among collectors, but among homeowners as well, as they can add character to a home. This buying guide will attempt to acquaint furniture buyers with the basics of buying antique dressers and vanities, will discuss their history, will look at what makes them valuable, and will instruct buyers on how to purchase them.
History of Antique Dressers and Vanities
Dressers and vanities originated from an 18th Century piece of furniture called a lowboy. The lowboy was a short table with two rows of drawers, so named because its counterpart (a large chest with several rows of drawers) was called a tallboy. The lowboy was popular in both the United States and England and was sometimes used as a side table. Its primary use was as a dresser, known as a "dressing table" in England. Initially, these pieces were quite plain, but later cabriole legs (four supports that have two curves; an upper curve bowing outwards, and a lower curve turned inwards) were added to give them more flair. During the Chippendale period (1754-1770), small dressing mirrors were placed on top of the dresser and the unit was called a toilet table.
Later, in the early 1800s, mirrors were directly installed on the table and the unit was paired with a matching stool or chair. With these changes, they became known as vanities. The vanities were also built with knee holes to allow the user to sit comfortably as he or she applied cosmetics. The drawers and storage space were expanded to hold more items, such as basins, jugs, soaps, and decorative perfume bottles.
By the time of the 20th century, the vanity went through several changes as different styles came into vogue. Vanities changed with the times, from the Mission Oak style in the 1920s which was characterized by straight lines, to the streamlined Art Moderne (or late Art Deco) in the later 1930s. In the 1950s and 1960s, manufacturers started to turn to hardwood more when making dressers and vanities. This era also popularized the modern style of a single drawer in the center and one or two rows of drawers down the sides.
Types of Antique Dressers and Vanities
There are many types of antique dressers and vanities. However, the most popular and perhaps historically significant types are the Queen Anne, the Chippendale, the Victorian, and the Art Deco.
Queen Anne
Queen Anne dressers and vanities were prominent in the early 1700s and are known for having numerous curves, scalloped carvings, and a light, graceful frame. They were constructed out of different types of wood like maple, oak, and mahogany. Other features included a single row of drawers and an oval mirror on the top of the surface.
Source: www.ebay.com