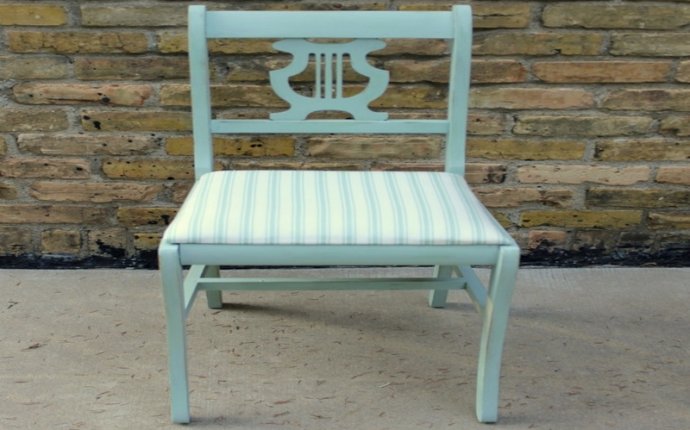 Harp Antique Gallery
Hunt Slonem has ridden camels in the Middle East, grown orchids in Nicaragua, and bought an entire armory in Scranton, Pa.
He's explored palaces in India, visited bird sanctuaries in the Philippines, and shown his exuberant, neo-expressionist paintings everywhere from NYC's Metropolitan Museum of Art to galleries in St. Petersburg, Russia, and even the Judy Garland Museum in Grand Rapids, Minn. Yet until a couple years ago, the roving artist — who's called New York home for more than 40 years — had barely set foot in Brooklyn.
"I never had any desire not to be in Manhattan, " the 64-year-old tells Alexa, while perched on a neo-gothic throne in his new 30, 000-square-foot painting studio-slash-aviary-slash-conservatory in "far out" Sunset Park, Brooklyn. "But when I came and saw [this space], it just made my jaw drop. It was so beautiful."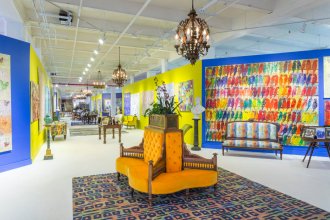 Slonem's artfully cluttered kingdom is indeed gorgeous, and despite enviable views of the East River and the Statue of Liberty, it feels far removed from the rest of the world. He's as known for his wunderkammer-like work spaces as for his colorful paintings of rabbits and tropical birds, which are collected by institutions like the Met as well as celebs like Kate Hudson and Julianne Moore.
At his new atelier, framed oil paintings — including hundreds of his famed Bunnies and Abraham Lincolns (whom Slonem insists he's spoken with through mediums) cover every purple or green or cerulean wall; tables overflow with vintage top hats and tasseled fezzes; orchids and greens bloom from antique pots; and some 50 or 60 (Slonem can't remember) parrots — with names like Gogo and Paolo and Josetta — sing from resplendent ceiling cages.
"My friend Janet has always said, 'Whoever has the most stuff when they die wins, ' " Slonem laughs. The artist — sporting a paint-splattered work shirt and a chatty bird on his shoulder — has clearly taken the mantra to heart. "It's just my passion, " he says of collecting. "I love saving things: endangered pieces and houses, animals."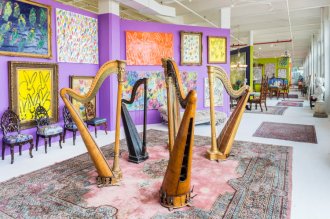 Slonem was born in Kittery, Maine, the oldest of four children. His father's Naval career meant he grew up roaming the Americas, moving from Virginia to Hawaii to Nicaragua. As a kid, he was obsessed with art and nature, entranced by the butterfly collection at a museum in Duluth, Minn.; orchids in Florida; and piranhas and exotic fishes in Honolulu. He painted it all.
"When I was in first grade, I drew a picture of myself standing at an easel, painting, " he recalls. "I was never conflicted. I couldn't do anything else."
After studying art in New Orleans, Mexico and Maine, Slonem moved to New York in the '70s. His Saints paintings (which mix Christian and Hindu art with the feverishness of Gauguin) quickly earned him plaudits in the art world. He also made a splash with eclectic, artfully rococo homes and work spaces, which he packed to the gills with 19th-century portraits, Marie Antoinette busts, antiques and live animals (including peacocks) from all over the globe — the belongings he couldn't indulge in as a Navy brat.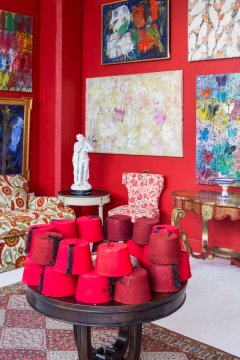 He attributes his penchant for collecting to his Duluth-based grandparents.
"They had a lot of stuff: gilt frames and sculptures, " he recalls. "It wasn't a monumental collection, but it was inspiring [to me] as a kid . . . I remember having pneumonia at the age of 3 and being deathly ill under a Robert Helmer painting.
"I have this internal mechanism, " he continues, when asked how he keeps track of the millions of objects he's amassed over the years. "I'll sometimes get up in the middle of the night and switch two paintings. I'm conscious of every room in every house [I have] and can tell you where everything is. Some people are blessed with photographic memories for reading, and I'm pretty blessed with object recall."
Compared with his previous 40, 000-square-foot artist's studio in Hell's Kitchen, Slonem calls his current Brooklyn loft — which he's been using for a year now — "minimal."
He carted "about 450 truckloads" worth of treasures from Hell's Kitchen to his Beaux Arts armory in Scranton, which he purchased after learning his old building was being torn down to make room for the massive Hudson Yards development. In addition to his Sunset Park studio and Soho apartment, Slonem "guesses" he has five houses, including a plantation in Louisiana. "I was always impressed by Picasso buying chateau after chateau, filling [them] up, locking the door, going on to the next one, " he says.
He says his properties are all funded by his prolific art sales (his paintings sell for up to $150, 000 each) and mural commissions, "thank goodness."
Source: nypost.com