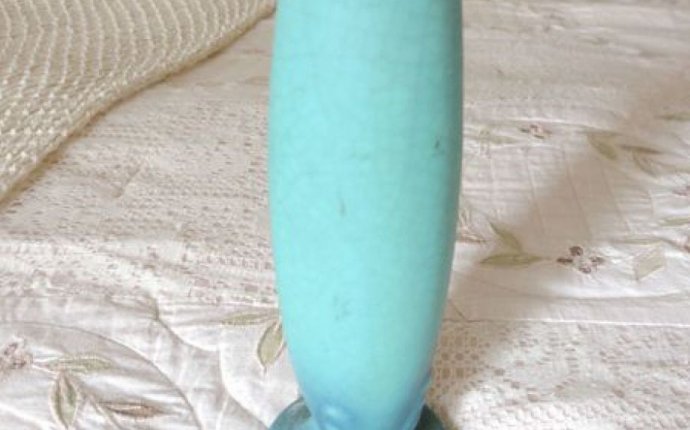 Danish Furniture Auction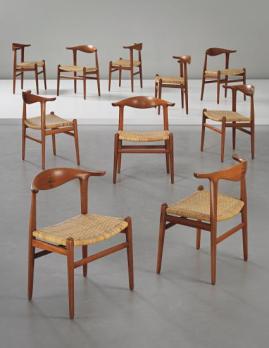 Master craftsmanship, pure lines, both humanist and functionalist, sturdy, yet elegant designs that accommodate both humanist and functionalist elements… Yes, we are talking about Scandinavian Design. The mid-centurian movement, which took the world by storm in 1940s, is once again seizing the stage, achieving worldwide popularity, especially in the last 5 years. Top international auction houses, such as Phillips and Sotheby's, hold annual sales dedicated solely to Nordic Design and achieve millions of euros in sales. What better way to measure a style's popularity then to look at auction results? Here is a list of the 5 most expensive Scandinavian Design furniture from the top international auction houses.
5. Hans J. Wegner, Set of 10 "Cowhorn" dining chairs, c. 1952 – £ 206, 500
Hans J. Wegner's Cowhorn Chair is the proof that a small chair sometimes packs as much luxury and artistic genius as a lounge chair.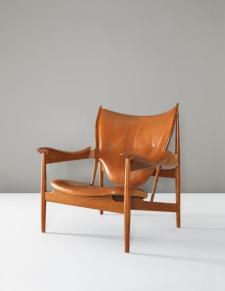 One of the smallest chairs designed by Wegner, this set of ten Cowhorn Chairs, designed and produced in 1952 have achieved £ 206, 500 -way over the £ 70, 000 – 90, 000 estimate- at Phillips's by master cabinetmaker Johannes Hansen. This set is possibly one of the first examples of the Cowhorn Chairs and it was exhibited at the famous "Copenhagen Cabinetmakers' Guild" Exhibition (26 September–12 October 1952), which almost always drives up the hammer price.
4. Poul Henningsen, Spiral Wall Light, 1955 – £253, 250
This exceptional "Spiral" Wall Light was designed by light genius Poul Henningsen for the Scala cinema and concert hall inside the Århus Theater in Denmark. The work consists of two adjoined spirals made from aluminum, painted aluminum and brass. Adjusting metal surface texture to achieve perfect no-glare light diffusion was Henningsen's expertise.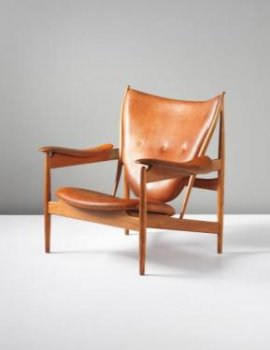 Throughout his career, he carried out numerous experiments to attain this perfect diffusion and a soft, organic shade of light. This lot is one of 26 original double-spiral wall lights designed by Poul Henningsen in 1955 for the Scala cinema and concert hall, one of five performance spaces within the Århus Theatre. Scala went through an extensive renovation in 1981, which reduced its size, therefore 12 lights were de-accessioned. The other 14 remain in their original place.
It is very rare to come across one of these in an auction. When we look back further to auction history, we see that over the years, the hammer price for the Scala wall lights have increased drastically. In 2006, the same light (10 cm smaller in width) sold for only $69, 600, again at Phillips. It is not much, compared to the £253, 250 sum this lot achieved only 5 years later, in November 2011. The heated bidding process for this lot reveals the rise in demand for Scandinavian Design in the last decade.
Source: blog.mearto.com