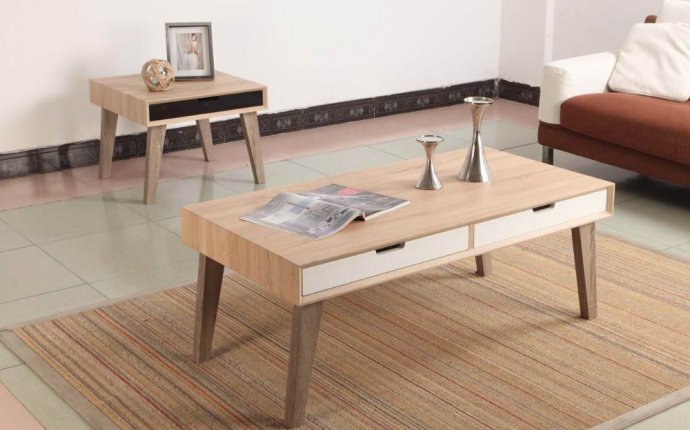 Retro Wood furniture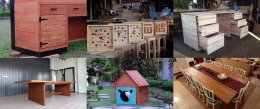 Aaron Wong
KILANAS
When Muhammad Abdul Hafiz Mahmus and his friends would pull up to industrial sites and warehouses across Brunei-Muara three years ago, workers on site would appear baffled as the band of youth voiced their request.
They pointed to wooden pallets – cheap, disposable and badly treated support structures which items are often loaded on for transport.
After some odd stares, the workers would shrug their shoulders and let the group gleefully and freely load up the discarded wood in their pick-up truck.
"Today they charge us, " says Hafiz with a chuckle, as we take a seat at his makeshift work shed at the side of his house. "They figure we need it, so I guess they see why they shouldn't earn from it?"
The 26-year-old began doing custom orders for furniture in September, 2014 after graduating with a diploma in religious studies. His younger brother and two cousins joined in, as they worked in Hafiz parents' car garage soon as they left for work in the morning.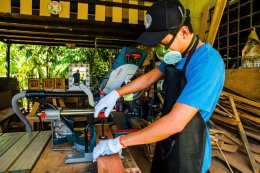 "We'd bring out all the tools we had, " he said. "We had two electrical saws, with a drill borrowed from a friend."
They'd pull over pallet after pallet, most which they intended to reuse wholesale, carefully removing nail after nail with a lever by hand, before sawing and shaping to fit the customers' orders, but almost always with a rustic, vintage look.
"Before 5pm we'd quickly pack up so my parents could move their cars back in, " said Hafiz, who was starting to gain traction on Instagram by uploading the team's work, calling themselves DIY Retro Furniture.
By the start of 2016, Hafiz saved more than $10, 000 – enough to buy a new set of tools and build a shed in his backyard, with an upper floor as an office. The orders also became increasingly large and complex; from outdoor tables and chairs, to clocks, walk in closets and outfitting commercial stores.
"There was once a period of six weeks where we collectively made $24, 000, " said Hafiz, who's done shelves for a cube store and built the seating and tables for cafes. "At that point we were working day and night. If the customer allowed, we even did part of the assembling at their house or store. So we'd do all the cutting at home, then build and assemble at the client's place."
Depending on the customers request, Hafiz says the furniture can be made entirely from recycled pallets, or include new or more expensive timber varieties like meranti.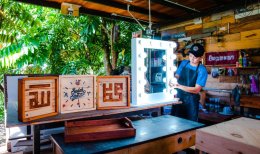 "What normally happens is a customer will email or WhatsApp us a design they've seen somewhere, " said Hafiz. "And then we'll give options of how much it would cost, if fully recycled versus a combination of old and new, before we proceed."
As we continue to talk, against the backdrop of newspaper cuttings in which DIY Retro has been extensively featured, I can't help but notice their pictures showing a team of four – yet nobody else has turned up or has been working at the shed since I stopped by.
"I'm pretty much on my own now, " says Hafiz almost wistfully. "Have been, for almost a year. Some continued their studies, while others went on to work."
On his own, the 26-year-old can take on three to four orders a week, and with a following of more than 13, 000 on Instagram, demand or reach isn't necessarily a big problem, as much as finding a dedicated team and securing financial backing.
"We want to have our own signature line of products, " says Hafiz, who said the items would still be hand crafted, but produced in higher quantities for stock. "We could advertise it and customers could immediately pick it up."
Custom orders normally require a 50 per cent down payment from the customer, but developing his own line will be a different ball game altogether, as Hafiz hasn't found a way yet to front the capital needed, which he won't see a return on, until the line has been developed and the product is sold.
Exporting has also been on his mind, after international audiences emailed in, but shipping, on a one-off custom order basis, is too expensive to do be done from Brunei, says Hafiz, after he was quoted for rates almost equal to if not more expensive than the furniture itself.
Ultimately, there is only so much Hafiz can produce solo, and without a team of dedicated local carpenters, DIY Retro will struggle to take the next step.
"Finding other Bruneians wanting to join me to do woodwork full-time has been difficult, " said Hafiz, who insists that despite these shortcomings, he isn't passing up his venture anytime soon. "There's really nothing else I would rather do. I'm a long way away from a recycled furniture store – but I'm keeping that as my long-term goal."
Source: www.bizbrunei.com