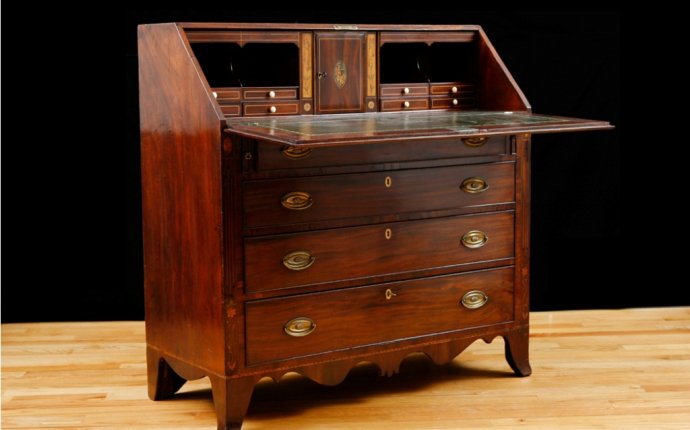 Value of Antique Secretary Desk
This month we are bringing back the popular "What's It Worth?" feature. And it's just in time to pique your curiosity about your family heirlooms and estate sale finds as the "Antiques Roadshow" comes to San Jose on Aug. 15. For details, antiques, or (888) 762-3749.
Q We are starting with a question from an editor who has a Governor Winthrop desk that has been in the family for years. It is marked "Maddox Table Co." and in fairly good condition. She wonders what it is worth.
A Like me, you must hail from New England where a piece of furniture like yours is often referred to as a Governor Winthrop desk. While the term is correct, most people outside our neck of the woods might call this a drop front or slant front desk, even a drop lid or slant top desk. No matter, you own an attractive object.
This type of desk first became popular in the United States in the mid-18th century. It was made by a number of New England cabinetmakers. Your desk displays claw-and-ball feet — a feature associated with furniture by Thomas Chippendale (1749-1822).
Once the slant front is open, the desk reveals special attributes that make this a desirable form of furniture. Especially noteworthy are all those great cubbyholes and crannies for storing papers, letters and documents.
Your desk has a fitted interior containing a "prospect door" surrounded by small columns. This is where you'll ordinarily encounter a secret drawer — or compartments — to hide valuables.
The mark on your writing desk indicates it was made by the Maddox Table of Jamestown, N.Y. The company, which began in 1898 and ceased operations by 1985, was one of many that crafted Colonial Revival furniture in the 1920s.
By the way, it was in 1924 that the name Gov. John Winthrop (1588-1649) — a figure in early Massachusetts history — became associated with the slant front desk. The Winthrop Furniture Co. of Boston is said to have used the name to describe a new model of one of its desks. It stuck, and the rest is history.
I consulted with longtime antiques dealer Rick Phelan of Silverleaf Antiques on The Alameda in San Jose, who regularly conducts estate sales in the Bay Area. Phelan says that after a coat of paste wax is applied to its mahogany veneer, he would tag your desk with a starting price of $695.
Source: www.mercurynews.com