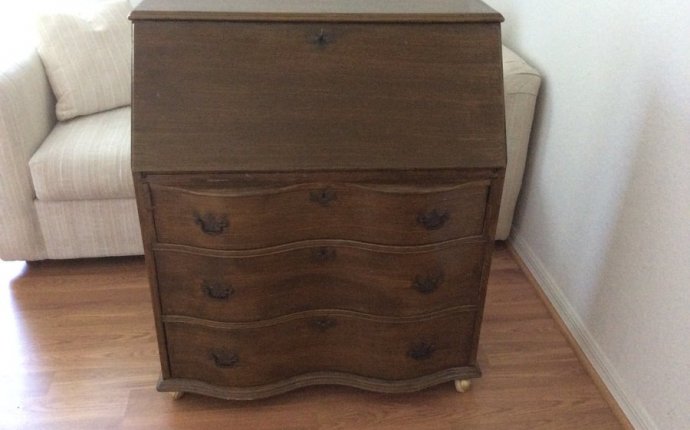 Value of old Secretary Desks
Paul Desmond Brown drawing (photo courtesy of the collector)
Paul Desmond Brown ink illustration
Q. I recently purchased this for $5 in a thrift store. It appears to be the work of Paul Desmond Brown, the well-known equestrian illustrator. This illustration seems to be from his children's book, "Crazy Quilt Circus Pony." We have determined that it is an original - paper, ink and pencil. It is signed, "Paul Brown '34". Can you give me an idea of its age and value?
G.P., Washington DC
A. Your drawing does appear to be the work of Paul Desmond Brown (American, 1893-1958). Brown is often called the most important American equestrian art illustrator. He was also the main illustrator for the Brooks Brothers clothing catalogs for more than 30 years and was a major influence on the image of the fashionable American man through the 1940s. The children's book you refer to was first published in 1934 and is a collector's item today. This original drawing would likely sell at auction for $700-$1, 000, while a nice antique shop might price it at $1, 400-$2, 000.
Grand Rapids dining setphoto courtesy of the collector
Grand Rapids dining set
Q. My grandfather purchased this dining table and six chairs 1939 at Grand Rapids Furniture. My husband thinks that the table is oak. The armchairs are leather and the others are red velvet. They have never been reupholstered. The table top has been stripped and re-stained years ago. The table measures 68 inches long, with two 20-inch pull-out leaves, 40 inches wide and 29 inches high.
V.K., Oregon City
A. Grand Rapids, Michigan, was one of the world's most important and productive furniture manufacturing hubs beginning in 1836 when William Haldane opened one of the first furniture stores in the city. Grand Rapids soon became known as "Furniture City" and in 1902 local companies began using Grand Rapids as a trademark name. Your set would have been popular in the 1930s, when the earlier English styles from the Medieval period through the late Jacobean period were revisited and elements of all were combined and reinterpreted. Based on your pictures and description, it does appear to be oak. This style of heavy, ornate furniture is not popular with today's homeowners, and the set might bring $300-$500 at auction. It might be priced at $1, 000-$1, 500 in a retail shop.
Secretary deskphoto courtesy of the collector
Secretary desk
Q. This secretary desk was my grandfather's. I am pretty sure it is early 1900s. We are moving and have to sell it and I have no idea of its worth. Thank you for anything you can tell us. It is 66 inches high, 37 inches across. There are no maker's marks.
J.H., Oregon City
A. Your secretary-style bookcase/desk appears to be American, Empire Revival style, circa 1910, in mahogany and mahogany veneer. If the condition were very good, an auction price might be $300-$500, with a retail price of $800-$1, 200. However, it does appear to have some missing veneer on the legs. Depending on how severe this is, it could decrease the value by 10-30 percent of those numbers.
Ruby glass lusterphoto courtesy of the collector
Ruby glass luster
Q. This item measures 18 inches high and 6 inches around and is in excellent condition. Can you tell me what it was used for and its value?
S.T., SE Portland
A. Your piece is a "Ruby Glass Lustre" or "Luster, " probably English, dating from the late Victorian Period, with enameled floral details. It appears to originally have had a gilt trim at the upper rim. The "drapes" or prisms, are cut crystal. Lusters were expensive, elegant candleholders produced in pairs to sit on a mantel, sideboard or dining table. At auction you might see an estimate of $70 to $100.00. A dealer might ask $100-$150 in a retail antique shop.
Victorian baby chairphoto courtesy of the collector
Victorian baby chair
Q. This baby chair has been in my family for more than a century. I was told it was a gift from Queen Victoria, who was Queen of the United Kingdom of Great Britain and Ireland from June 1837 to 1901. It measures 27 inches high, 14 inches wide and is 22 inches deep.
D.E., NE Portland
A. Your chair does appear to be a Victorian period child's folding chair, probably circa 1880. The wood appears to be fruitwood, and it has a very appealing marquetry bird design executed with different colored wood veneers and an inset glass eye. Antique children's furniture is very collectible, so you might realize an auction price of $200-$300, with a retail asking price of $400-$600. If you can establish some provenance from Queen Victoria - perhaps a card that accompanied the gift, or a newspaper clipping from the time mentioning the gift, the value would increase substantially.
ABOUT COLLECTIBLES The values of items featured in this Collectibles column are estimated by Portland appraiser Jerry Dobesh, who is an Accredited Member of the American Society of Appraisers. He is specifically accredited in Antiques and Decorative Arts. His services include providing appraisals for estate tax, charitable contribution, insurance scheduling and loss, and equitable distribution needs.
To find an appraiser, contact the International Society of Appraisers, the American Society of Appraisers, or the Appraisers Association of America. Estimates suggested in this Collectibles column are for general information purposes only and cannot be used as a basis for sale, insurance, or IRS purposes.
If you have a rare, very old and/or unusual item of furniture or home decor you would like considered for inclusion in the column, please send us your high-quality images, preferably at least 300 dpi and in jpeg format. Generally, phone photos are not good enough for evaluation.
Photos must show the object in its entirety and must be clearly focused and well lighted to show detail. If there are any maker's marks, please include an image of those. Include measurements and information about the condition of the piece.
Send to: Collectibles/Homes & Gardens The Oregonian 1500 SW First Ave., Suite 400 Portland, OR 97201
Please include your name and town, along with contact information; phone number or email address. Contact information will not be published. The Oregonian will retain usage rights of the photographs for its print, marketing and online media
Source: www.oregonlive.com