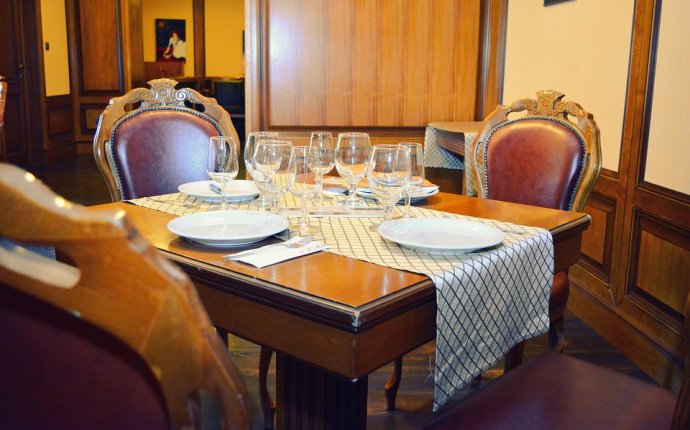 Vintage Chairs Design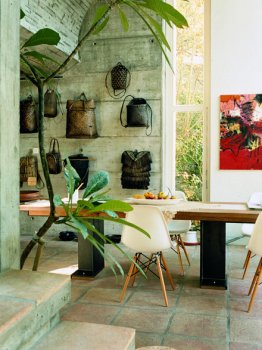 Retro furniture has been celebrating a comeback in recent times: properly placed and styled, vintage furniture breathes new life into old design classics and creates a warm nostalgic atmosphere in your home. Retro chairs are easily added to a room and can complement the rest of the furnishings to create a completely unique look. Invite your guests on a magic journey through a world of gandiose and timeless designs. Read on for fantastic design inspiration for retro chairs with heaps of charm, history, and character!
Retro Chairs by Arne Jacobsen: The Golden Era of the 60s
The designer and architect Arne Jacobsen is a revolutionary when it comes to the world of designer chairs. The models he has designed, especially the Ant, Series 7 and the Drop Chair represent monuments of mid-century furniture.
1. Ahead of its Time: The Ant as a Design Pioneer
In cooperation with Fritz Hansen, Jacobsen desiged the Ant Chair in 1951. The chair with an extraordinary look and only three legs was at first viewed with utmost scepticism. A reaction that many products receive, when they are ahead of their time. Even the manufacturer, who would later cooperate with the artist many more times, was intially doubtful that the chair would be a success and limited production to an initial 300 pieces. Over the years though, the Ant chair has advanced to one of the bestselling chairs in the world, specifically because of its svelte and minimalist design. Today, it is counted as a real retro classic.
Retro Revival: Re-Edition for a Limited Time
Many manufacturers and designers are inspired by mid century furniture designs and today produce designs from bygone years either in a new look or with their own creations heavily inspired by that time period. The Ant Chair has also undergone such an experience, with the brand Fritz Hansen deciding to create a reissue in 2016. Shining in a grey oak varnishing and bronze coloured legs, this retro dining chair is available at Connox until September 2017 as a Limited Edition.
2. Regal Retro Chic: The Chairs of Series 7
Derived from the Ant, in 1955 Jacobsen created the Series 7. Thanks to this collection, the number seven has come to represent timeless elegance and artistic as well as artisanal skill at the highest level. The designer retro chair enjoys worldwide popularity, which is in some part thanks to Christine Keeler, who as an international supermodel had her photograph taken on the chair in 1963 - an image that spread around the world like wildfire.The chair can also be found in many public buildings today, including the Guild Hall in Mainz and in the restaurant of the Royal SAS Hotel, which was also designed by Jacobsen. There, the retro chairs decorate the rooms and bring a sence of grace and regal elegance with their appearance.
3. The Drop Chair - in Typical Retro Material Mix
Three years later in 1958 came another piece, that today enjoys fame as a much-loved retro chair: The Drop Chair. Originally also designed for the Jacobsens Royal SAS Hotel and not as a mass product, the chair quickly became a coveted collector's item. It makes an extraordinary statement and enhances the appearance of any room with just its presence. Today there are retro chairs in all sorts of shapes and sizes: whether with fabric or leather upholstery, or in plastic with or without a seat cushion - which is what makes this design into a classic, as it is exactly these materials that define retro furniture.
Retro Chairs in Colourful Plastics
Retro style means one thing above all: lots of plastic in bright colours. The design label Vitra captivates with its colourful chairs that always have the highest quality in comfort and appearance. The manufacturer Knoll also produces fine vintage chairs, allowing your home to glow with designs from the 50s, 60s and 70s.
4. Vitra Writes History - The Eames Plastic Chair
Probably the most famous designer chair with retro charm is the Eames Plastic Chair. It made Charles and Ray Eames the most prominent design personalities of the last century and is an absolute classic in interior design. It was created in 1948 during the MoMa exhibition for "Low Cost Furniture Design", and was put into production only two years later. As the first plastic chair that was ever produced in series, it wrote design history.
Chairs in our shop
Click the button to enter our Home Design Shop.
View now!
Today's realisation is the best example of a re-edition for retro chairs: originally it was made with a fibreglass seat, and this has now been replaced with a more environmentally friendly polypropylene plastic, as this is recyclable. But that's not all: the seat is available in countless colours as well as with and without arm rests. The frame also offers a variety of possibilities now: from different types of wood to a frame of aluminium - imagination knows no bounds. The chair height has also been adjusted, as a reaction from Vitra to the increased average body height since the 50s.
5. Verner Panton's Vision: The Success Story of the Panton Chair
Working together, Verner Panton and Vitra created another work of art within the design world in the last century: the Panton Chair. Panton's idea was to create a flowing form from a material and he created the affordable, indutrially finished plastic chair. Since its introduction in 1967, the vintage furniture piece has undergone a number of production phases. The chair's wavy form embraces the body shape, making it particulary comfortable.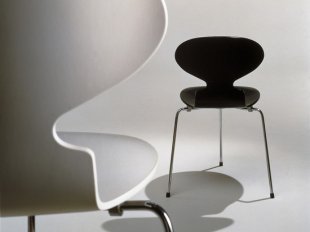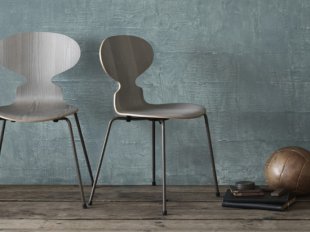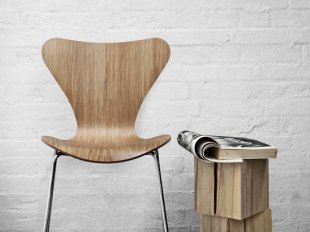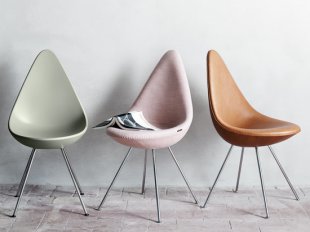 Source: www.connox.com