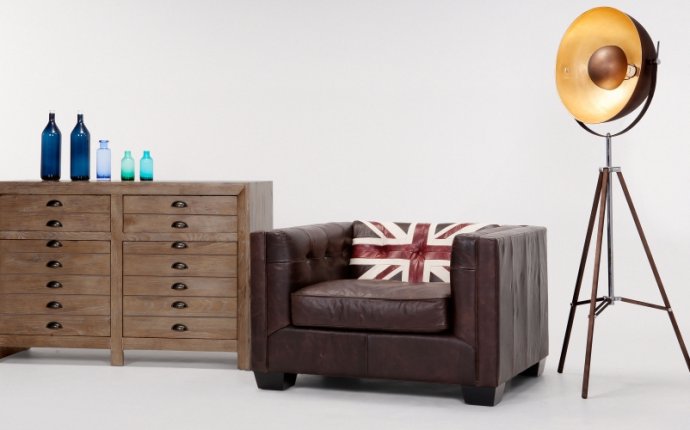 Vintage Furniture
Vanities can be stunning and gorgeous in a bathroom, but often homeowners are given bulky, builder-grade pieces that offer storage but not much style.
These repurposed vanities, however, use vintage furniture to bring sophistication and storage to bathrooms. Designers and DIY bloggers shared how they turned antique and flea market finds and existing furniture into eye-catching elements.
When Kristen Grove's clients converted a closet in their 1960s ranch-style home into a master bathroom, the designer wanted to create a fresh and modern space with mid-century elements. She didn't have to look far for inspiration and furniture.
The project required cutting out holes for items such as the marble countertop, sink and faucet, and switching out drawers. Any DIYer who has worked with furniture before can attempt this project, she says.
DIYer Jenna Diermann was tired of her 1970s outdated California bathroom with ugly harvest gold countertops. She envisioned a rustic, cottage-style bathroom, which would require removing the vanity and countertops along with all of the tile, shower and floors.
Part of her makeover included refinishing and modifying a vintage buffet she found on Craigslist. She's found in other projects, like in her bathroom redo, that vintage pieces found on Craigslist and Facebook groups, and at flea markets and thrift stores can generally be of higher quality, cheaper, and have more character and versatility to refinish.
Her new vanity took being creative. She looked at items such as dressers, TV stands, sideboards, hutches and buffets that would fit the space and just need minor modifications. By searching Craigslist for "buffet, " she says she was able to find her one-of-a-kind piece.
When refinishing a piece, don't be in a rush, says Diermann, who chronicles her experiences at blog.jennasuedesign.com. The process typically involves: stripping/sanding the old varnish; applying paint and/or treatment; and waterproofing using polyurethane or varnish, which can take several days to cure. She recommends chalk or lime paint because it won't peel like latex paint.
Dining Room Buffet Do-Over
Sure, most renovation projects seem to take longer than expected. But DIYer Mark Gaynor suggests slowing down, even at the start of a project.
He and his wife, Kim, wanted to turn a piece of furniture into a master bathroom vanity. They were not in a hurry to choose just anything. The most important thing was being able to have double sinks and still have usable door and drawer spaces after mounting the sinks.
The couple, who blog at livingvintageco.com, found this dining room buffet at an antique store in their east Texas town. They lucked out, because it fit their dimensions for the space and already had the white painted patina they wanted, Mark says.
The tough part was finding undermount sinks that would fit the very shallow depth, he says. They didn't want top-mounted vessel or surface-mounted sinks, and ended up finding rectangular sinks at The Home Depot.
A crucial step was to destroy the top of the buffet by cutting the sink mount holes. Mark says he measured three times to make sure he was cutting it right, then cut the holes with a skill saw and finished the edges with a round-off bit on his router. During the process, he scratched the top more than he wanted. He sanded the rest of the top, which revealed the deep, rich brown wood. He considers it an excellent mistake.
After distressing the edges, legs and other areas of the now-vanity, he applied a coating of Miss Mustard Seed's furniture wax to seal the top against water spotting and staining. The two main drawers are still usable, although the narrow top drawers are now fixed and not usable.
Source: www.diynetwork.com