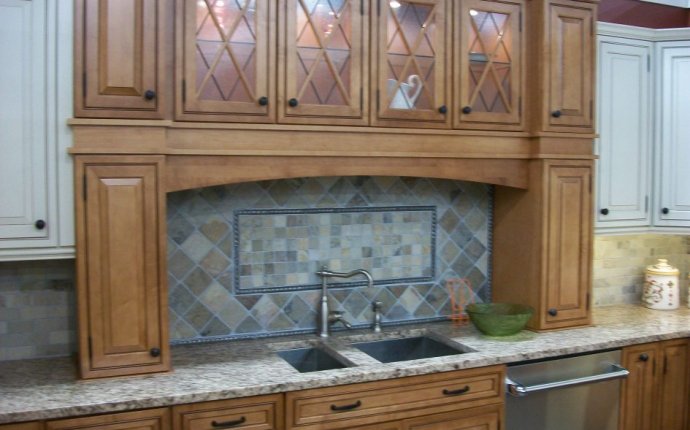 Vintage Wooden Cabinet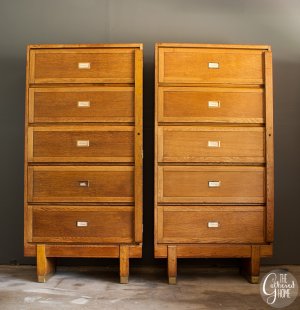 I am so excited to share this find with you guys today! It's summer now, and summer equals Craigslist-time in the Delerson household. During the summer, Bryan's hours teaching music drastically change, giving us the opportunity (and motivation) to Craigslist at full tilt.
I've been spending a lot of time on the Dallas/Fort Worth Craigslist lately and spotting so many gorgeous things. You might have noticed more frequent "#gatherthis" posts on The Gathered Home Facebook page – I can't buy them all, so I share the extras with you guys in the hopes that some local gatherers might be able to snatch them up!
This pair of vintage wooden filing cabinets absolutely had to come home with me though.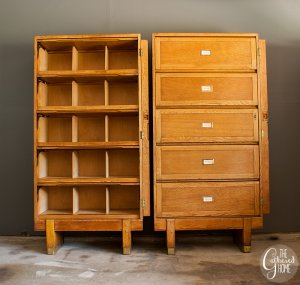 I don't want to brag, but I'm going to anyway… When I spotted this listing on Craigslist, there was no indication within the posting that they were anything special. However, as I studied the one photo in the posting, I had a hunch that the wood filing cabinet just might be vintage, so I sent an email asking for more information. Sure enough, I heard back that they were from the 50's or 60's and I made an appointment right away to pick them up!
They were so much more amazing in person – solid wood with a gorgeous oak grain and incredible details! They are stamped on the back with November 1955, Staverton (a British office furniture supply company that is still in business today).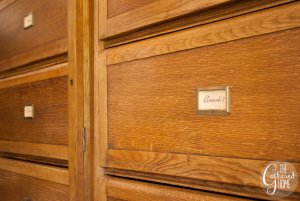 The quality of workmanship on these pieces is just stunning – sixty years later, they are still solid as a rock and operating smoothly. Each door slides up inside the case, barrister bookcase style, where each shelf is subdivided into cubbies.
In my research, I discovered that these file cabinets were designed for important document storage. There's a hinged bar that folds closed over all the doors and which originally locked, preventing them from opening, although the locking mechanism on these particular pieces has been removed.
This pair originally came from an old doctor's office. I think the labels are original…
As much as I would have loved to hang onto these, right now they are listed on the Dallas Craigslist awaiting a new home.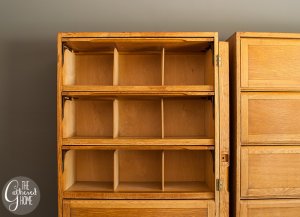 I'm so excited for the way some future buyer might use them – I think they would be incredible in a home library, office, or even in a rustic industrial kitchen as non-traditional cabinetry!
How would you use these pieces?
P.S. This summer I'm working on carving out a little photography studio in my garage… Last week, I threw some leftover paint up on the wall for a backdrop. It's in the extremely "rough draft" stages at the moment, but I'm loving the light in here!
Join The Gathering!
Do you love eclectic interiors and vintage finds? Join The Gathered Home's mailing list and never miss an update!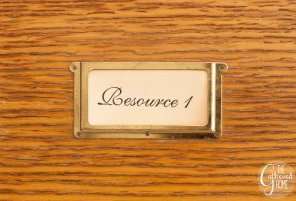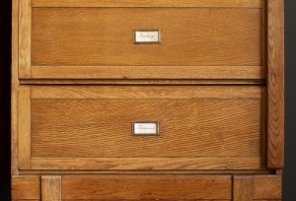 Source: www.thegatheredhome.com