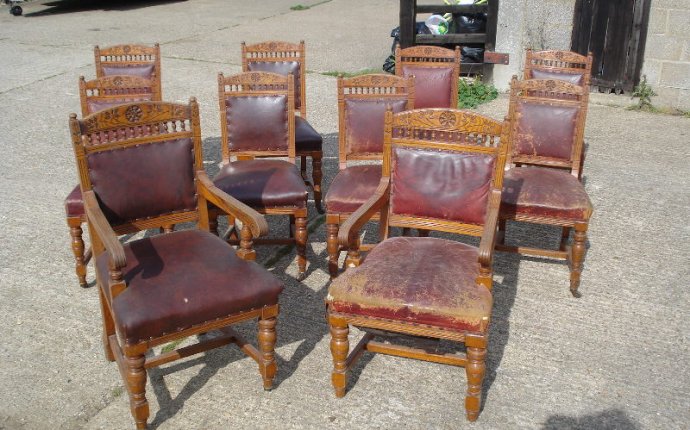 Arts and Crafts Antique Furniture
Charles Limbert started out working as a salesman for his father's furniture business in the 1890s. He established his own chair factory in 1894, and continued representing other furniture manufacturers as well. In fact, his efforts helped to boost the popularity of rustic furniture made by Old Hickory of Martinsville, Indiana, according to the Arts & Crafts Society website (arts-crafts.com).
He went on to establish the Charles P.
Limbert Furniture Co. in 1902 making goods in line with the style that would become his legacy. His Grand Rapids, Michigan factory made furniture and light fixtures with simple lines and few decorative elements reflecting the Arts and Crafts movement.
Limbert's furniture is characterized by the heavy, masculine look popular in the early 20th century referenced as "Mission" style, which was popular from about 1900 through 1925. But as mentioned on arts-crafts.com, Limbert never called his work Mission. He only referenced it as Arts & Crafts, and felt that Spanish Mission style was actually a derivative of Dutch styling.
While following traditional Arts & Crafts principles for the most part, there were a few variations in some of his designs that actually reflected Dutch influence, especially in his early 1900s work. "Of all American Arts and Crafts furniture makers, Limbert was perhaps the best known for his use of decorative cutouts, including squares, spades, hearts, etc.
While Arts and Crafts enthusiasts may not find all Limbert designs aesthetically pleasing, the good designs are very good, " according to an online article by Paul Kemner and Peggy Zdila.
In 1906, he opened another factory in Holland, Michigan said to have been much more pleasant for his workers with scenic grounds and recreation areas to enjoy.
The factory in Grand Rapids closed, but a showroom was maintained there. Limbert remained active in the business until 1922 when poor health prompted him to sell his interest in the firm. Furniture was crafted under the Limbert name through the 1940s, however.
For those wanting to study Limbert designs in greater detail, a number of his early 1900s catalogs from his business have been reproduced and can be ordered online.
Limbert Versus Stickley
Limbert is considered to have been a contemporary competitor of Gustav Stickley's, along with other Arts & Crafts furniture manufacturers like Elbert Hubbard's Roycroft community. They all produced Mission style furniture, but with minor variations in the styling and designs.
Source: www.thespruce.com