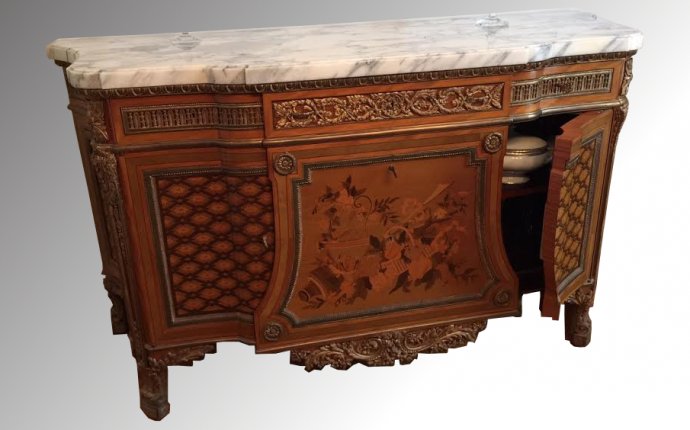 Louis XVI Antique Furniture
Louis XVI, 1760-1789
French Furniture Styles
During this period, ceremonial rooms and townhouses of large cities were abandoned in favor of small, rustic retreats. Fussy elegance came to be less favored than spontaneous grace. Furniture was shorn of superfluous ornament, rococo tendencies and baroque excess. The floral bouquets that replaced them seemed artificial and tacked on. Lines became more restrained, but developed a new heaviness.
Furniture: The basic configuration of desks, commodes and small tables remained much the same as Louis XV style. Chairs had straight fluted legs and rigid backs with severe arms. Dining room tables entered widespread use and were now extendable and most often round or oval. Vitrines were introduced to display prized knickknacks.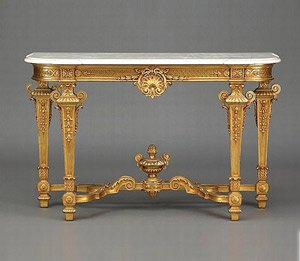 Materials and techniques: Oak was used for solid-wood pieces, for the carcasses of marquetry pieces, for carved wooden ornament and for certain chairs. Walnut, ash and burled walnut was used for seating and movable pieces. Mahogany became very fashionable. Ebony came back into fashion and various fruitwoods were still used. Marquetry of colored woods continued, but in a darker cast. Turned elements again became common. Lacquer and Martin varnish were used. Porcelain plaques, copper, steel and bronze fittings were used. The marble of preference was white, gray or sometimes red with veining.
Ornament: A return to straight lines, flat surfaces and right angles was seen. Moldings were thinner and more elegant. Classical motifs were typical, such as egg-and-dart, acanthus, laurel and cornucopias. Architectural motifs were prevalent, such as fluting and columns, as well as ancient objects such as vases and urns, human faces. Vegetal motifs were seen as well: short garlands of flowers and foilage, pinecones and pomegranates.
Source: www.timothy-corrigan.com